Leonardo DiCaprio headed to court in 'Wolf of Wall Street' defamation case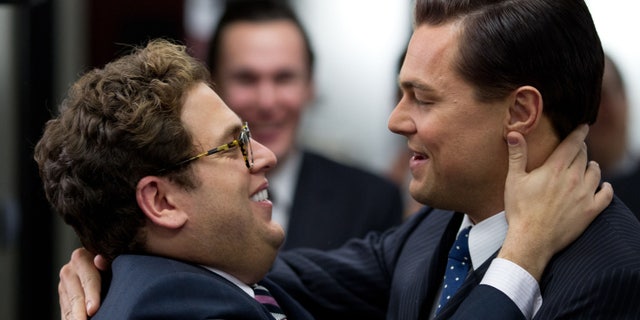 NEWYou can now listen to Fox News articles!
Leonardo DiCaprio's next role? On the hot seat.
The Oscar winner will be deposed in a $25 million defamation lawsuit over his 2013 blockbuster "Wolf of Wall Street," a Long Island federal-court judge ruled Thursday.
DiCaprio, who earned an Academy Award nomination for best actor for his role as sleazy businessman Jordan Belfort in the flick, is set to be grilled by lawyers for Andrew Greene. Greene sued Paramount Pictures and others in 2014 claiming the flick portrayed him as a toupee-wearing, prostitute-loving degenerate character named Nicky "Rugrat" Koskoff.
Earlier this week, Greene's lawyers, Aaron Goldsmith and Stephanie Ovadia, indicated that they had tried to depose Hollywood's most famous bachelor but couldn't because he was "too busy."
They said DiCaprio, who co-produced the movie, was a "driving force" behind getting the flick made and is "knowledgeable regarding significant issues in this case," according to a court filing.
Judge Steven Locke granted a motion to compel DiCaprio's deposition, saying it would take place "at a reasonable time and place agreed to by the parties."
Greene claims his identity is "readily apparent" in the movie and that his "Wolf" character, played by actor P.J. Byrne, was repeatedly mocked for his "piece of s—t hairpiece."
The Huntington Station, Long Island resident says he was also depicted as a morally bankrupt drug abuser.
Greene worked for infamous boiler-room stock firm Stratton Oakmont from 1993 to 1996 and was a childhood friend of Belfort in real life, the lawsuit says.
"The motion picture's scenes concerning Mr. Greene were false, defamatory, and fundamentally injurious to Mr. Greene's professional reputation, both as an attorney and as an investment banker/venture capitalist, as well as his personal reputation," the suit says.
A rep for DiCaprio didn't immediately return a message.
This article originally appeared in the New York Post's Page Six.