LeAnn Rimes gets attention for strange 'X Factor' performance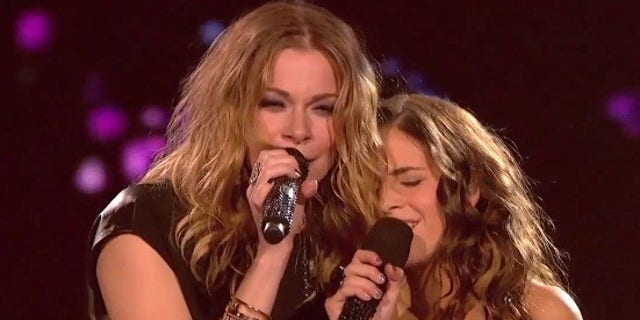 LeAnn Rimes is making headlines again, this time for her performance last night on "The X Factor."
Rimes took the stage on Wednesday alongside finalist Carly Rose Sonenclar to perform her hit "How Do I Live?" But the country music star's performance seemed strange to fans, who worried maybe she was under the influence during the song.
"Was LeAnn Rimes drunk on last night's 'X Factor' performance?" one fan tweeted. "I heard she's been sick. Hope that's all."
"It's been 12 hours and I'm still laughing and crying at the hot mess that was Leann Rimes on the #xfactor last night," another wrote.
Other users tweeted Rimes appeared "unstable" and "tried to out sing" Sonenclar.
Rimes seemed to struggle during the song, often overlapping with Sonenclar's words and singing louder than the finalist. At one point during the duet, Rimes grabbed on to Sonenclar's arm, seemingly for support.
But the singer tweeted nothing was wrong with her during the show.
"In my 18 years of performing, I have never been anything but professional onstage. It is a shame that gossip and lies are overshadowing the performance of Carly, a very talented young girl," she wrote. "And while I have not given any media outlet a quote, if you want one, here it is 'It was an amazing opportunity to share this experience with Carly and I know I'll be watching for her to win tonight.'"
Her lawyer echoed her sentiments to TMZ, saying any awkwardness with Rimes' performance was because she was trying to help Sonenclar, who was nervous.
"LeAnn was not performing the way she would normally perform, because she was on stage with a young girl," Larry Stein told the website.
And the singer insists she is doing well after a 30-day stint in rehab for anxiety and stress.
On Tuesday, she told Jay Leno on "The Tonight Show" her decision enter rehab came when she decided to make a change on her 30th birthday.
"God, the last four years have been super compressed with anxiety," she said. "I didn't know how to deal with it all."
Rimes also touched on her drama with "Real Housewives of Beverly Hills" star Brandi Glanville. She commented on how her husband Eddie Cibrian's ex-wife often mentions her on the reality series.
"I should feel flattered that I'm that interesting, that I can be such an amazing storyline on a reality show."