Lady Gaga joined by sexual assault survivors during Oscars performance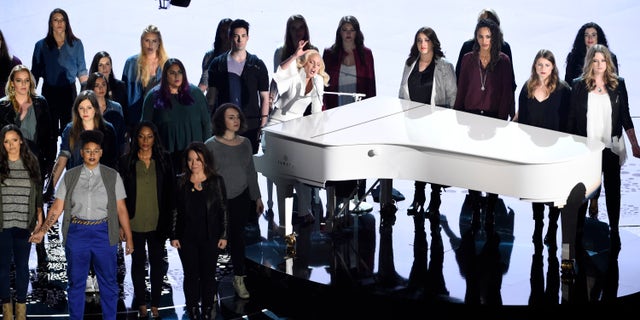 Lady Gaga made a powerful statement about sexual assault at the Oscars, belting out her nominated tune from "The Hunting Ground," a documentary about rape on college campuses.
Vice President Joe Biden introduced the songstress, charging the crowd, "Tonight, I'm asking you to join millions of Americans … to take the pledge. A pledge that says, 'I will intervene in a situation where consent has not or cannot be given.'"
Wearing a white suit and sitting behind a white grand piano, Gaga sang the first several verses of "Til It Happens To You" before being joined by dozens of sexual assault survivors on stage. The young men and women standing alongside Gaga had blunt messages scrawled on their arms, such as "Not Your Fault" and "It Happened To Me."
After her performance, Gaga lost the award to Sam Smith for "Writing's on the Wall" from the James Bond film "Spectre."
Gaga herself is a survivor of rape, which happened at the age of 19.
"I didn't tell anyone for, I think, seven years," the Grammy winner, now 29, revealed in December. "I didn't know how to even think about it, I didn't know how to accept it, I didn't know how to not blame myself or think it was my fault. It's something that really changed my life, it changed who I was completely. It changed my body, it changed my thoughts."
Gaga's fiance, the actor Taylor Kinney, accompanied her to Sunday's awards show. Before her performance, she wrote on Instagram, "I never thought anyone would ever love me because I felt like my body was ruined by my abuser. But he loves the survivor in me. He's stood by me all night proud and unashamedly. THATS a real man."
This article originally appeared in the New York Post's Page Six.