Kim Zolciak says she is 'never, never' going back to 'Housewives'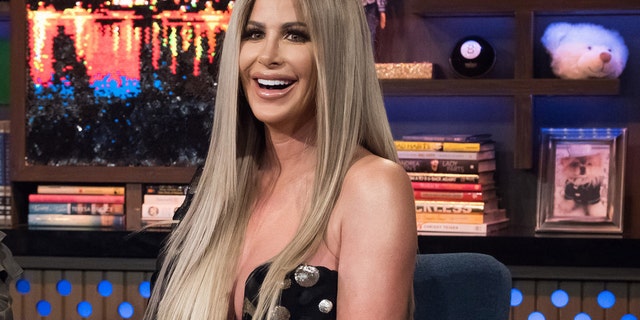 Kim Zolciak's days on "The Real Housewives of Atlanta" appear to be over.
As the "Don't Be Tardy" star and husband Kroy Biermann made their way through LAX on Saturday, TMZ pressed Zolciak, 39, about whether she would return to the Atlanta franchise.
"Never, never," Zolciak replied. "Too much stress, unneeded stress."
Following a tense "Housewives" reunion, in which her feud with co-star NeNe Leakes boiled over completely, Zolciak apologized to her longtime frenemy Sunday on Instagram.
"I am so sorry for what has happened @neneleakes We both know the truth, we both know that if I wanted to, I could have a lawsuit for the lies you have spewed, tweeting out fake texts, implying I am racist, attacking me physically, claiming my daughter tweeted negative about you and your home, we both know these are lies. I have reacted to it publicly and for that I am sorry," Zolciak penned.
She continued, "I personally will no longer engage with you on social media and perpetuate the hate. I am asking you to do the same. We are grown women with families. Enough is enough. I want us to move on If you continue this, it will be because you are attempting to stay on the show and stay relevant and that's on you."
Zolciak's post comes hours after Leakes, 50, shared a lengthy message of her own online, as she uploaded a photo with Andy Cohen and the mother of six from the reunion.
"So many things happen behind the scenes that you guys just never get to know or see. I knew working with her would be a mess and I've said it over & over & over again to ALL of my higher ups but what happens, i get reprimanded! I'm the bad guy!" Leakes wrote on Instagram. "I wish i could speak so much more freely but it's best not too. Sometimes you just have to let people see things for themselves which is what happened here!"
Leakes also stated how Zolciak "loves to push buttons, lie, talk s–t, insult, then become a victim when she's called out on her s–-," later calling her a bully and a "#priviledgedpeaceofs–-."
This story originally appeared in the New York Post.