Kim Kardashian shares first family photo with 3 kids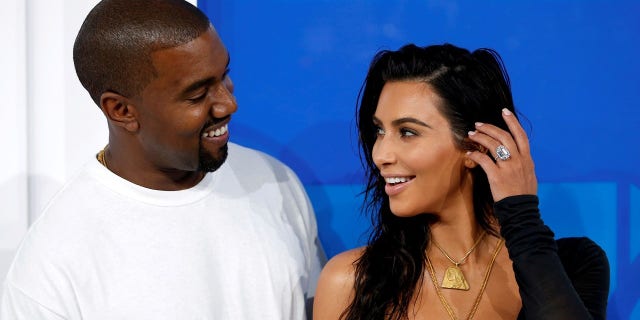 NEWYou can now listen to Fox News articles!
Kim Kardashian shared her first family photo since the birth of her third child Chicago West.
Kardashian posted the picture on Instagram and Twitter Wednesday. It features Kardashian, her husband Kanye West and their three children — North, 4, Saint, 2, and 3-month-old Chicago. The reality star opened up about the struggle of getting all three children to stand still during the photo op.
"I don't think you really understand how hard it is to take a good family pic. This was all we got before all three kids started crying. I think I cried too," Kardashian wrote in the caption.
The 37-year-old then revealed she was holding Saint's shirt to prevent him from running away.
"One hand holding the baby and the other hand grabbing the back of Saints shirt because he kept running away lol," she tweeted.
North was the only one pictured smiling while Kardashian and West, sporting blond hair, gave their signature "no smile" look. Chicago seems to be sleeping in Kardashian's arm while Saint looks away from the camera.
The picture appears to have been taken during the family's Easter celebration.
Kardashian posted another photo of Saint with the same filter earlier Wednesday with the caption: "Easter pics coming soon on my app."
Kardashian welcomed her second daughter in January. Chicago, born via surrogate, made her official debut on Kardashian's social media pages in February, when the reality star posted a selfie of the two with a "pink bear" filter.