Kendall Jenner a big fan of the no-bra look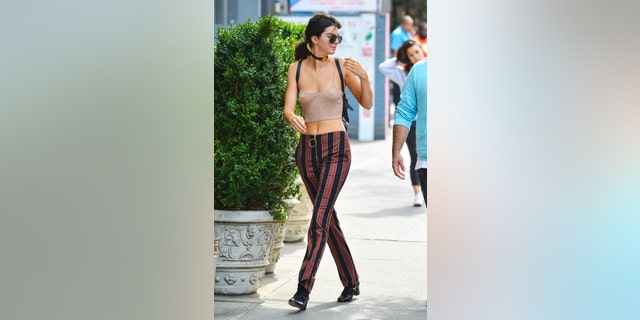 Does Kendall Jenner ever wear a bra?
The supermodel is clearly following in her big sister Kim Kardashian's footsteps by forgoing a little, uh, extra support.
Jenner stepped out sans bra in striped trousers and a nude-colored crop top cut waaaaay low in New York City.
Related: Kim and Kourtney Kardashian rock insane cut-out, pantsless looks at Paris Fashion Week
She also chose to go braless earlier this week at an event encouraging people to register to vote.
Jenner recently spoke out about her style choices and her decision to support the "Free the Nipple" movement.
"Lately, it's like I'm either braless or I have my bra out," she said on her app. "I'm all about freeing the nipple...I just think it's cool to show off what's under your shirt — whether that's a cute bralette or just skin."