Kate, Duchess of Cambridge, makes first appearance since royal birth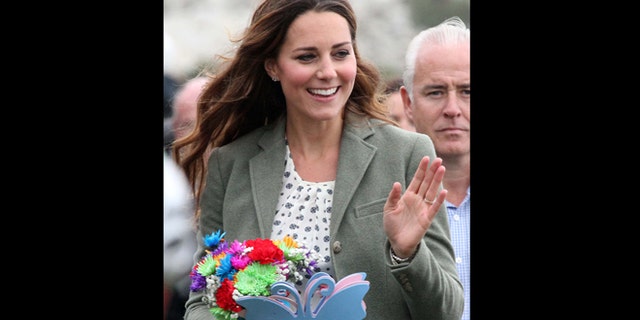 LONDON – The Duchess of Cambridge has made her first public appearance since giving birth to Prince George last month, joining her husband Prince William at a running event in Wales on Friday.
The new parents weren't competing in the grueling three-day, 135-mile race around the island of Anglesey. William was the starter at the event, while Kate accompanied him and greeted runners and residents.
Sporting black skinny jeans, wedge shoes and a khaki jacket, Kate, 31, looked well as she laughed and chatted with locals ahead of the race.
When asked how her baby -- barely six weeks old -- is doing, the duchess said: "He's very well, thank you. He's sleeping at the moment."
Sarah Bingham, the wife of the race organizer, spoke briefly with Kate and said the duchess told her George was with "his grandma," referring to Kate's mother, Carole Middleton.
Kate's presence at Friday's event had not been disclosed ahead of time, and her swift return to her schedule of public engagements was a surprise to some.
The couple's appearance was expected to be one of their last public engagements in Anglesey, a quiet corner in north Wales, where they have been based since 2009. William has said he and his family will be leaving their Welsh abode when his three-year posting as a search and rescue helicopter pilot ends this month.
The family is expected to make Kensington Palace in London their main home.