Justin Bieber's Brazilian Video Girl Says She Had 'Unforgettable' Night, Says He's Well-Endowed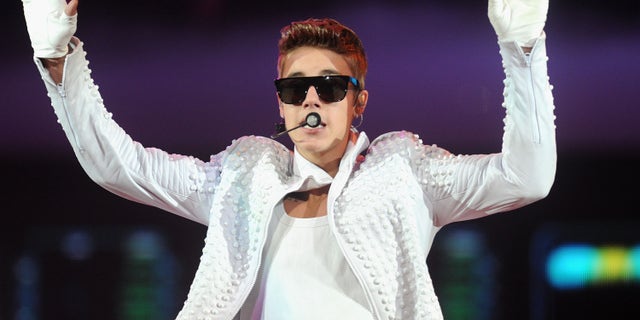 A video she posted of a sleeping Justin Bieber in a hotel room immediately went viral and her sly kiss to the superstar pop singer became an Internet sensation.
Now it seems Tatiana Neves Barbosa seems to be enjoying her newfound fame and won't stop talking about it.
According to Us Weekly, in an interview with Globo TV's Fantastico program, the Brazilian bodybuilder and model spoke out for the first time about the night she spent with the 19-year-old Canadian singer and the now famous video she shot.
The brunette, known to friends as Tati, played coy when asked about what she and the "Beauty and the Beat" singer during their time together in Rio, but hinted that it'd been a night to remember.
"What do you think, if I was sleeping in the bedroom, just me and him?" the 27-year-old teased, admitting to sleeping in the same bed as the teen idol, but stopping short of saying whether it went past just sleeping.
She may have not told the Brazilian TV program if they slept together, but in a interview with British tabloid "The Sun" Neves reportedly provides extensive and intimate details of their alleged tryst together, Us Weekly reports.
"Take it from me, he's well endowed – and very good in bed," Neves is quoted as telling the tabloid. "A man must know what do to make me happy – Justin did all that and more."
The Brazilian beauty told Fantastico that Bieber has invited her to a party at his house – which he was renting after he was reportedly asked to leave his hotel in Rio de Janeiro. Asked if she'd seen any other girls arriving at the property, Neves replied, "No. I'd already gone into the bedroom with him."
She claims that once the party was over, Biber invited her to bed.
"It was one of the best moments in my life. It was marvelous and unforgettable," Neves is quoted in the Sun. "He has quite a fit body and he looked great naked."
Neves said she filmed the video of Bieber the morning after. "I was sleeping, and woke up," she told Fantastico. "He was sleeping and I was speaking with a girlfriend."
The 15-second video of Bieber in bed was uploaded to YouTube last week. The clip, which has had more than 34 million views, does not have anything particularly scandalous in it, but Tati blowing the "Boyfriend" singer a goodbye kiss as he sleeps soundly behind her.
The party at Bieber's rented house is all part of the teen star's tumultuous tour through Latin America which has included getting asked to leave hotels in Brazil and Argentina, Bieber allegedly spotted leaving a brothel in Rio, graffiti, vandalism charges and two concerts cut short - oh and food poisoning.
Bieber is performing in Chile on Tuesday.
Follow us on twitter.com/foxnewslatino
Like us at facebook.com/foxnewslatino