Jon Hamm vs. Kim Kardashian: Cattiest celeb feud?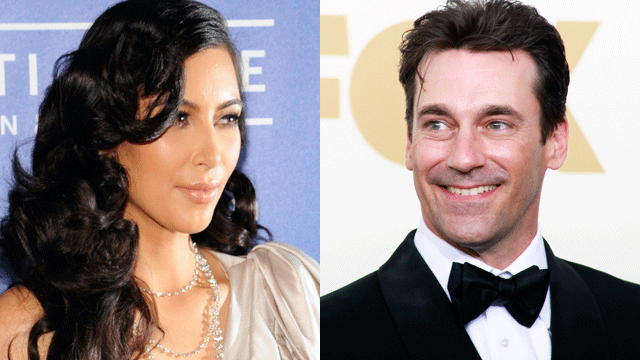 By now, you've probably read that "Mad Men" star Jon Hamm dissed reality TV queen Kim Kardashian in the U.K. edition of Elle magazine. And now, Kim is fighting back.
Complaining about the state of pop culture, Hamm told the mag, "Whether it's Paris Hilton or Kim Kardashian or whoever, stupidity is certainly celebrated. Being a [expletive] idiot is a valuable commodity in this culture... You're rewarded significantly."
SODAHEAD SLIDESHOW: See the cattiest celebrity feuds.
On Monday, Kardashian fired back a response on Twitter. "I just heard about the comment Jon Hamm made about me in an interview. I respect Jon and I am a firm believer that everyone is entitled to their own opinion and that not everyone takes the same path in life. We're all working hard and we all have to respect one another. Calling someone who runs their own businesses, is a part of a successful TV show, produces, writes, designs, and creates, 'stupid,' is in my opinion careless," she wrote.
Call us softies, but we're kind of siding with Kim on this one. She might not be the next Einstein, but somehow, she's managed to build a multimillion-dollar business on a sex tape. Typically, it's not the kind of thing that makes mom proud, but in her case, her entire family is laughing all the way to the bank.
PHOTOS: See the latest celebrity pictures to hit the Internet.
From Jon vs. Kim to Miranda Lambert vs. Chris Brown to Elton John and David Furnish vs. Madonna, let us know: Who had the cattiest celeb feud?