John Lennon's Handwritten Lyrics Fetch $1.2 Million at Auction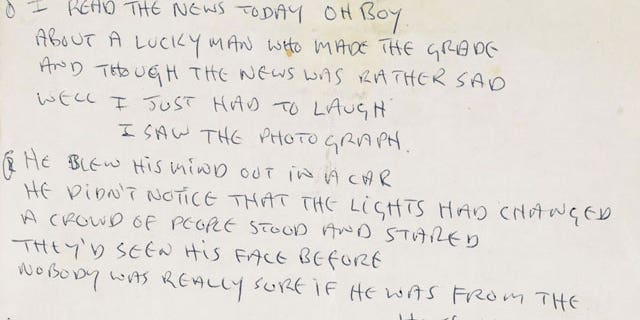 NEW YORK -- John Lennon's handwritten lyrics to the final song on the classic Beatles album "Sgt. Pepper's Lonely Hearts Club Band" were purchased by an American collector on Friday for $1.2 million.
The winning bid for "A Day in the Life" was placed by phone at Sotheby's auction house, which declined to identify the collector further.
The price exceeded the pre-sale estimate of between $500,000 and $800,000.
The double-sided sheet of paper features Lennon's edits and corrections in his own handwriting -- in black felt marker and blue ballpoint pen, with a few annotations in red ink.
Rolling Stone magazine listed "A Day in the Life" at No. 26 in its compilation of the 500 Greatest Songs of All Time and "Sgt. Pepper" won four Grammy awards in 1968.
The lyrics, which begin with "I read the news today, oh boy," stirred controversy when the Beatles released the album in 1967. The song was banned by the BBC because it twice features the line, "I'd love to turn you on," which was interpreted as supporting illegal drug use.
The song also was left off copies of "Sgt. Pepper's" sold in several Asian countries for the same reason.
The album's "Lucy in the Sky with Diamonds" was alleged to have glorified the use of the hallucinogenic LSD, a claim that band members denied.
In addition, "A Day in the Life" features the lyric "he blew his mind out in a car," which Beatles aficionados claim is a reference to the accidental death of Tara Browne, the Guinness heir and close friend of both Lennon and Paul McCartney.
The lyrics appear on both sides of the single sheet. One side has Lennon's original first draft, written in a hurried cursive script. The other side is written almost entirely in capital letters and incorporates the corrections from the first draft and adds the words, "I'd love to turn you on."
Sotheby's said the lyrics were consigned by a private collector. Friday's price came close to the $1.25 million paid in 2005 for the Beatles lyrics "All You Need is Love," it said. It sold to an anonymous bidder at the British auction house Cooper Owen.