John Legend says Trump presidency has made him 'more aware'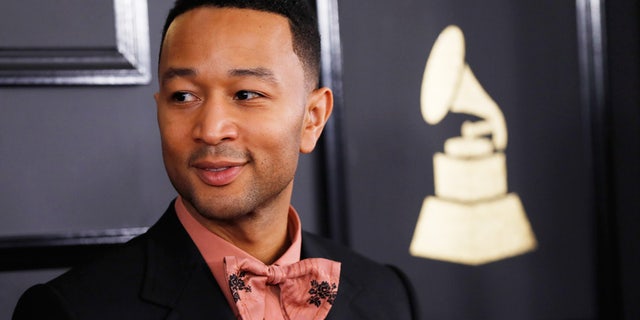 John Legend says Trump's presidency has impacted him and made him more aware about world issues.
"Having our current president in office, it makes all of us a bit more aware of what's happening because he's causing a lot more concern that previous leaders have," he told the Associated Press.
On Monday, Legend will serenade The Nobel Peace Prize winners in Oslo Norway at the Telenor Arena. Performing at the Nobel Prize Peace concert is a gig that's made him reflect on the world he'd like to leave for his children.
"It puts a little more focus on what the world is going to be. You want it to be safe. You want it to be peaceful. You want people to have opportunity. You want people to have justice."
Legend has lately found himself more vocal politically, backing a protesting NFL player, pushing for reforms in the criminal justice system and aiding marchers in New York demanding justice for a man who died in police custody.
"I've always been really aware but I think it's making me speak out even more than I have before because there's so much we have to be concerned about," he said.
Legend also talked about fatherhood. Last month, he and his wife, Chrissy Teigen, announced they were expecting their second child. Their daughter, Luna, was born in 2016.
"Having kids puts in context for me the kinds of things kids need to be successful and healthy and happy. And realizing that far too many kids don't have that," the singer-songwriter said by phone from Los Angeles. "That's what being a father has done for me."
Legend, who performed at the 2006 peace prize concert, said he's honored to celebrate the same award that was handed to the Rev. Martin Luther King Jr. and former President Barack Obama.
Concert producer Odd Arvid Strømstad said asking Legend to return this year made sense.
"We had John Legend as one of the artists in 2006 in the beginning of his career, and that was a very good experience. Since then he has had an amazing career. Therefore, we have over the years discussed inviting him back," he said.
Other performers include Zara Larsson, Sigrid, Matoma and Lukas Graham. Actor David Oyelowo will host and its highly likely Legend will sing "Glory" from the film "Selma" starring Oyelowo as King. It can be seen live online .
The Associated Press contributed to this report.