'Jimmy Kimmel Live' moving into thick of late-night fight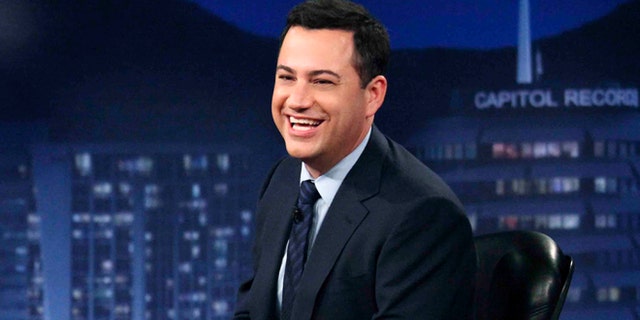 LOS ANGELES – "Jimmy Kimmel Live" is moving into the thick of the late-night fight against Jay Leno and David Letterman, ABC said Tuesday, bumping "Nightline" from its longtime perch.
Starting in January, Kimmel's talk show will shift from 12:05 a.m. Eastern to the 11:35 p.m. Eastern time period long held by the newsmagazine, taking advantage of Kimmel's ratings growth and the potential for greater ad revenue, the network said.
"Nightline" will move to 12:35 a.m. Eastern. ABC softened the blow for its news division by giving the half-hour show a weekly prime-time hour starting in March, and also will find a home for the ABC News series "What Would You Do?"
The network is rolling the dice, taking ratings winner "Nightline" out of a competitive time slot and putting in yet another talk show. Besides network rivals Leno and Letterman, the hour is home to Jon Stewart and Stephen Colbert on Comedy Central, Conan O'Brien on TBS and Chelsea Handler on E! Entertainment.
Kimmel said he is ready for the challenge.
"The most exciting thing is having a bigger audience," he said. "You work all day on the show and you want as many people to see you as possible."
Letterman graciously welcomed him to the fray.
"The more the merrier. We like Jimmy, we know he'll do a fine program, and we wish him well," he said in a statement.
Kimmel, newly engaged to Molly McNearney, his show's co-head writer, and set to host next month's Emmy Awards, is having a run of good fortune. But the droll comeot.
"I may get a tummy tuck," he said.
Leno can attest to the continuing vagaries of late-night work: On Friday, "Tonight" laid off about two-dozen workers and Leno accepted a pay cut to spare other staffers as NBC Universal cut down on expenses under new owner Comcast Corp.
It became comic fodder on Monday's show.
"Welcome to the `Tonight' show, or as Comcast calls us, `The Expendables,"' Leno joked in his monologue. "I knew something was going on. Friday morning I woke up and there was a Peacock head in my bed."