Jimmy Kimmel dons rainbow suspenders to honor Robin Williams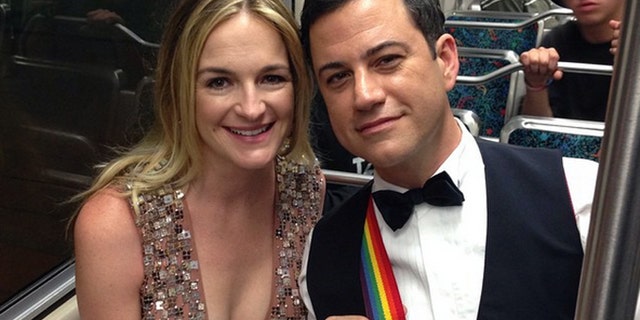 Jimmy Kimmel is channeling his inner Mork.
On Monday night, Kimmel snapped an Instagram of himself and his wife, Molly McNearney taking a casual subway ride to the Emmy Awards. Who needs a fancy limo when the subway drops you right at the Nokia Theatre in downtown Los Angeles?
Underneath his fancy tuxedo and black bow tie, the late night TV host showed off his rainbow suspenders in honor of the late Robin Williams' infamous TV character, Mork.
He Instagrammed: "On our way to the #Emmys UNDERGROUND. Blue line to #Emmys #Mork"
After Williams passed away, Jimmy tweeted his condolences, "Robin was as sweet a man as he was funny. If you're sad, please tell someone."