Jimmy Fallon makes hasty retreat after bar room brawl breaks out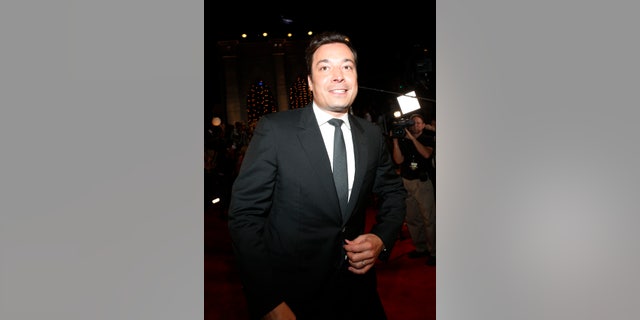 Jimmy Fallon narrowly escaped a bar room brawl after a fracas broke out while he was partying with friends following "The Tonight Show," reports The New York Post.
Sources said the NBC host and a group of friends and co-workers headed to East Village bar Niagara on Thursday night after work.
But when 39-year-old Fallon and his crew arrived at the grungy, crowded rocker hangout around 10:30 p.m., they didn't exactly get a warm welcome from fellow patrons.
Customer Ron Harrell posted on Twitter, "Fallon just got in a fight at Niagara Bar. Go NYC." He posted a picture that showed a suit-and-tie-clad Fallon being apparently comforted by a woman and closely guarded by a large glowering guy in an FDNY sweatshirt as a stunned crowd gathered around.
One source said, "There was some hostility from some people at the bar. Jimmy was not the aggressor, but he was caught up in it. It was broken up and Jimmy and his friends immediately left."
Another patron added, "There was a kerfuffle, a dust-up amongst other patrons. Jimmy was caught up in it, but was not hurt and turned around and left. It was not caused by him and he was in and out in five minutes."
The genial host is known to head out after taping a show and is a regular at several Manhattan Midtown bars including Bill's where he was recently spotted belting out, "You've Lost That Loving Feeling."