Jesse James Accused of Cheating on Kat Von D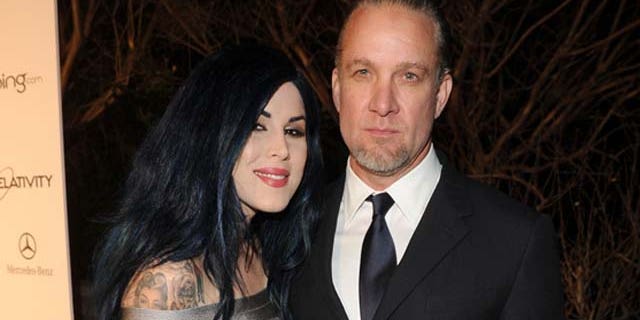 Jesse James, if reports are believable, is doing everything he can to prove the old saying true – "Once a dog, always a dog."
The motorcycle enthusiast, who reportedly split with Kat Von D because of the distance between them, may have actually cheated on the tattoo star with another woman while they were on a break, multiple entertainment sites are reporting.
That's the latest rumor surfacing about the on-again, off-again couple after an anonymous woman claimed she had a rendezvous with James when he was still with Kat. The woman vents on the website CheaterVille.com, which claims to expose infidelities.
RadarOnline.com reported the alleged hookup, too.
"I'm not even sure why the media ran the story about you and Kat breaking up again, it's no big surprise," the mysterious woman posted. "You're a cheater, it's in your DNA. You can't stay faithful because you hate yourself, therefore you secretly hate everyone else in your life.
"Why don't you finally be a man and tell everyone why Kat dumped you this time?" she added.
The allegations come just three days after Von D and James split again; they had recently made up following their first breakup. The two have been an item for the past two years.
James' marriage to actress Sandra Bullock abruptly ended after his affairs, with model Michelle "Bombshell" McGee, among others, went public.
The scorned woman, meanwhile, claimed that James is keeping their fling from Von D.
"I know you didn't tell her," she posted. "I didn't say anything because I didn't even know that you two got back together until the entire world found out.
"You're a sick predator who doesn't respect women," she adds.
Besides exposing the dirty laundry between her and the motorcycle aficionado, the woman raises some eyebrows by accusing James of what seems to be an STD.
"Thanks for the parting gift you left me," she says. "That's the ONLY REASON why I'm not telling the world exactly who I am but you most certainly know."
You can reach Alexandra Gratereaux at: Alexandra.Gratereaux@foxnewslatino.com or via Twitter: @GalexLatino
Follow us on twitter.com/foxnewslatino
Like us at facebook.com/foxnewslatino