Jennifer Lopez Talks Break-Up Blues, Busting Moves and Motherhood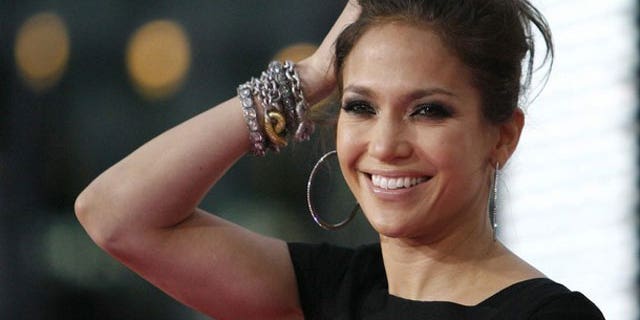 LOS ANGELES – Suffering from break-up blues? Did your significant other do you wrong?
Then Jennifer Lopez has some advice for you, inspired by her hit single "Louboutins."
"I love the [female]-empowering message that it has. If someone cheats on you or breaks up with you or does something awful or wrong to you, you [want to] sit there and cry and feel sorry for yourself and eat ice-cream and wear sweat pants and [have] your girlfriends come over. It's like no, let's not get it twisted," a fabulous-looking Lopez told Pop Tarts on Wednesday. "I'm going to put on my good shoes and my good dress and bye. You're going to watch this (slaps her backside) walk right out of the house."
Speaking of her backside, it seems the 40-year-old's body is even more bangin' since giving birth to twins Emme and Max in February 2008.
"It's the dancing, I don't have time to work out with those two little munchkins at home," she insisted. "I get a lot of my inspirations from old musicals, I like to infuse it. I grew up in the whole hip-hop era, so I like to incorporate that, it's kind of a mix which you'll see."
SLIDESHOW: Click here for photos of Jennifer Lopez.
And when it comes to performing, Lopez is nothing short of a perfectionist. The songstress spent her Wednesday morning rehearsing her holiday-inspired "Louboutins" routine over and over again for that night's finale of "So You Think You Can Dance" (and unlike the AMAs, there were not grand jumps and no improvised plummets to the floor).
But back to those two little munchkins, little Max was so attached to his doting mama that she had to step outside her dressing room to have her make-up touched up.
"He's just like Marc - difficult ... He takes after his father. I've got to get ready out here, they don't let me get ready in there," Lopez joked. "He's got his dad's voice, a big voice."
Does that mean he'll take after his mom and dad and end up singing?
"Or screaming," Lopez laughed. "Just now he was dancing to 'Louboutins' while we were doing the performance. It was so cute."
But when it comes to the subject of singing and dancing, it seems Lopez and her hubby don't always see eye-to-eye.
"I do like 'American Idol', but I do like 'So You Think You Can Dance' a bit better. I started out a dancer, I have a special love for it, but Marc and I were just having this debate," she explained. "We are leaving tonight to do two shows in Chile where I'll sing with him at his shows. I was like 'that's so easy compared to dancing! I can't wait to get there!'"
So what's on the agenda for the Festive Season in the Lopez/Anthony household?
"Just being with the kids, with the family. Lots of music," she said. "I'm going to do New Years Rockin' Eve with Dick Clark and Ryan Seacrest, performing old stuff and new stuff. See you at midnight!"