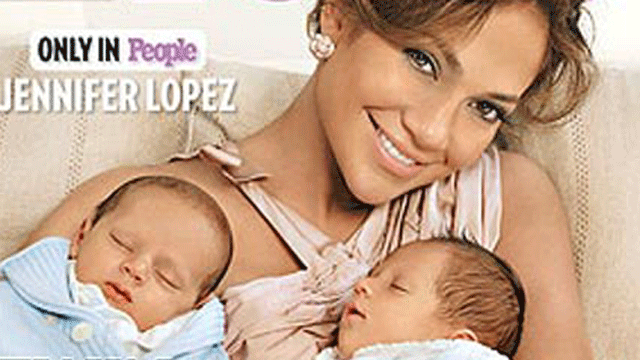 Jennifer Lopez stars in the upcoming movie "The Back-Up Plan" about a woman who conceives twins using artificial insemination.
But Lopez told Elle magazine in their February issue that she decided to forgo in vitro fertilization treatments while trying to get pregnant herself.
"I … believe in God and I have a lot of faith in that, so I just felt like you don't mess with things like that," she told Elle. "And I guess deep down I really felt like either this is not going to happen for me or it is. You know what I mean? And if it is, it will. And if it's not, it's not going to."
SLIDESHOW: The Lovely and Talented Jennifer Lopez.
Lopez, 40, ended up having fraternal twins Emme and Max in 2008 through natural methods.
However the pop princess's opinion that IVF is "messing" with God has irked some who underwent IVF to have children.
"She's saying that if you deal with fertility issues then it's because God doesn't want you to have children and that's offensive. In reality, if God didn't want you to have kids then he wouldn't have these opportunities available," Jennifer Katz, who underwent IVF treatment in 2007, told Pop Tarts. "It's not 'messing' or intruding in God's plan, you go after things in life that you want and don't sit back and wait for things to happen. God helps those who help themselves."
Jerome Ballard, whose wife had IVF, said their decision to turn to reproductive assistance only made their faith stronger. "I am Catholic, but I believe in life if you want something, you have to make it happen yourself regardless of whether you believe in God," he said. "We had faith in what we were doing, and IVF was there to help us."
Numerous blogs have also attacked Lopez over her comments. However, two IVF proponents contacted by Pop Tarts stand by Lopez's right to her opinion and principles.
"I can't speak about her personal choices, but I think that we live in an era of reproductive freedom and everybody is welcome to reproduce in whatever way they wish," fertility specialist Arthur Wisot of Reproductive Partners in Southern California told Tarts. "If (Jennifer Lopez) isn't accepting it, then it may impair her ability to have children in the future, but it's based on her own moral and ethical principles."
The American Fertility Association also stood by the starlet.
"[Jennifer Lopez] has stated that she would never consider in-vitro fertilization as an option since she is a traditionalist," an AFA rep said. "We at the American Fertility Association, support Jennifer Lopez's right to not use in-vitro fertilization or any other form of assisted reproduction in the creation of her family, just as we also support another person's right to use this same technology."
A rep for Lopez did not respond for comment.