Jennifer Lopez, Blasted By Human Rights Groups Months Ago, Honored By Another One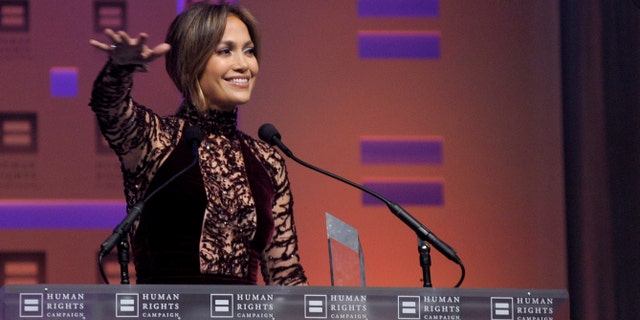 Just months after she was blasted by a human rights group for serenading an oppressive leader, Jennifer Lopez was given an award by another one.
The superstar actress received the Ally For Equality award at the annual Human Rights Campaign gala Oct. 5 at the Washington Convention Center. Lopez looked flawless in a revealing lacy gown this weekend when she was honored as an ally to the gay community.
The Latina actress was appreciative to accept the HRC's award, but told the audience it should be for collaborative achievements.
"It's a celebration of us," Lopez said, "of what we can accomplish when we throw fear out the window and opt to do what we know in our hearts is right."
The 44-year-old actress also spoke about the ABC Family drama "The Fosters," starring Teri Polo and Sherri Saum, which she is producing. Lopez called it "groundbreaking and timely."
"It's the story about a bi-racial same-sex couple who embraced foster care and foster parenting and have more than enough love to go around," Lopez said.
The actress said one of her favorite aunts was a lesbian, and that she related to "The Fosters" because "I'm a single mom, raising my own so-called non-traditional family. I embrace it."
Other guests at the gala included activist Gloria Steinem, Julian Bond, Tim Gunn and Prop 8 and DOMO plaintiff's lawyers David Boies, Ted Olson and Roberta Kaplan.
The gala raised $2.5 million.
Lopez came under fire in July from the Human Rights Foundation after she sang "Happy Birthday to the controversial leader of Turkmenistan. She later apologized for the performance, saying she had no idea that about the leader's oppressive rulings.
Follow us on twitter.com/foxnewslatino
Like us at facebook.com/foxnewslatino