Jason Aldean wins ACM Awards' Entertainer of the Year at show focusing on healing through music after Las Vegas shooting
Jason Aldean took home the biggest honor at ACM Awards on Sunday night for Entertainer of the Year. The show marked country music's major return to Las Vegas six months after a lone gunman killed 58 people at a country music festival in Sin City in the deadliest mass shooting in modern U.S. history.
Aldean, who was onstage when the gunshots started, admitted it was a "rough year" after he accepted the coveted award for the third consecutive year at the end of the night.
"It's been a rough year and I just want to say thanks to everybody that reached out to us, that showed us love and support, over the last six months," Aldean said. "It meant the world to us. To my Route 91 people -- you guys are in my hearts always. I love you guys and we love Las Vegas. Vegas strong baby!"
At the opening of the show, Aldean was joined by a few of his fellow artists to explain that while the night will pay tribute to the victims, it will focus on the unifying and healing power of music.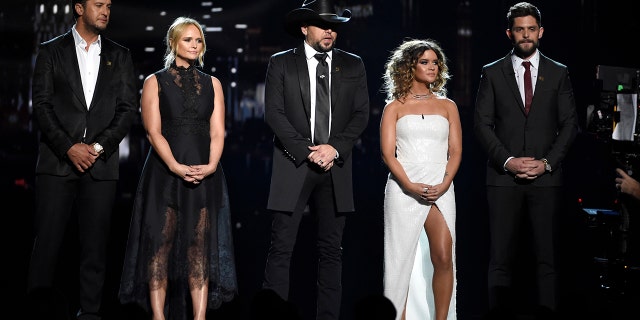 After the short intro, host Reba McEntire quickly fired up the crowd with a slew of jokes that left no artist safe from her tongue-and-cheek opening.
Commenting on the previous year's hosts, Luke Bryan and Dierks Bentley, McEntire quipped, "I guess they just found out it only takes one woman to do the job of two men."
The "Fancy" singer also pointed out that only men are nominated for Entertainer of the Year.
"Five men no women...looks like single's night at the Holiday Inn," she told a cheering crowd.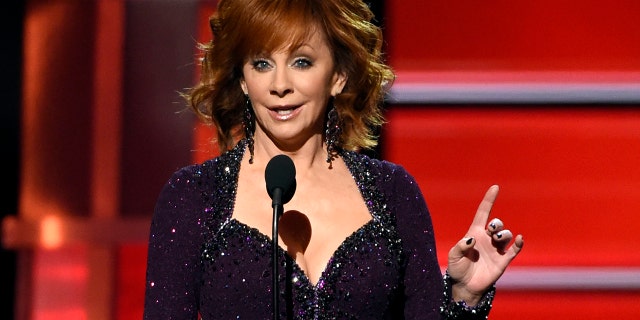 Despite McEntire's complaints, a female singer took home the first award; Miranda Lambert won Song of the Year for "Tin Man."
"Thank you, guys, so much for sharing my broken heart with me," Lambert said onstage, standing with "Tin Man" co-writers Jack Ingram and Jon Randall. It was a tense moment as Lambert thanked the crowd including her ex-husband Blake Shelton and his new girlfriend Gwen Stefani as "Tin Man" was inspired by her divorce from Shelton.
Lambert made history again when she upheld her record for the most consecutive wins for Female Vocalist of the Year. She also surpassed Brooks and Dunn as the most decorated act in ACM history with 32 wins.
Performers for the night included Luke Bryan, Kenny Chesney, Florida Georgia Line, Toby Keith, Alan Jackson, Lady Antebellum, Blake Shelton, Keith Urban, Miranda Lambert, Little Big Town, Thomas Rhett, and Maren Morris.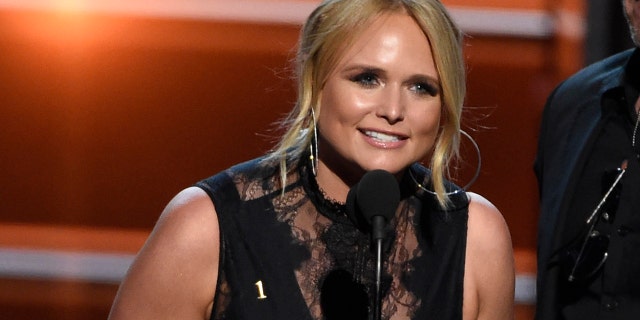 Carrie Underwood's highly-anticipated performance of her new song "Cry Pretty" was her first television appearance after injuring her face and wrist last year due to a fall at her home.
Following the performance, she immediately won vocal event of the year for the dance-infused country song, "The Fighter," with Keith Urban.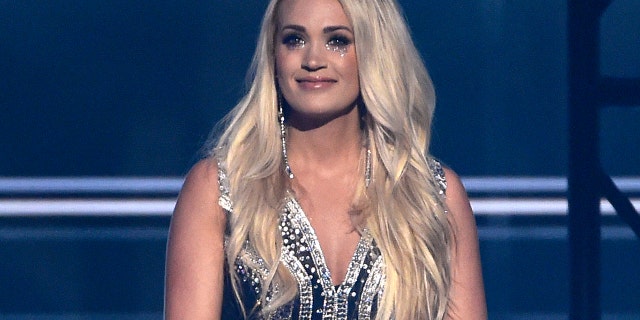 "Thank you for having me," Underwood said to Urban onstage. "I am still kind of shaking right now," she added, appearing teary-eyed.
Chris Stapleton, who won Album and Male Vocalist of the Year, was the top nominee with eight. However, he was unable to attend the show because as McEntire announced after his first win, he welcomed twin boys with wife Morgan seemingly during the show.
The longest-running No. 1 song of all-time on the country charts, Sam Hunt's "Body Like a Back Road," won single record of the year at the ACMs; Hunt didn't attend the show.
Little Big Town sang Elton John's "Rocket Man" in celebration of the icon's new album, "Restoration," which features country singers covering his songs. Kane Brown and Lauren Alaina were impressive when they sang their duet, "What Ifs." Kenny Chesney, Toby Keith, Kelsea Ballerini, Alan Jackson, Lady Antebellum and Dierks Bentley also performed.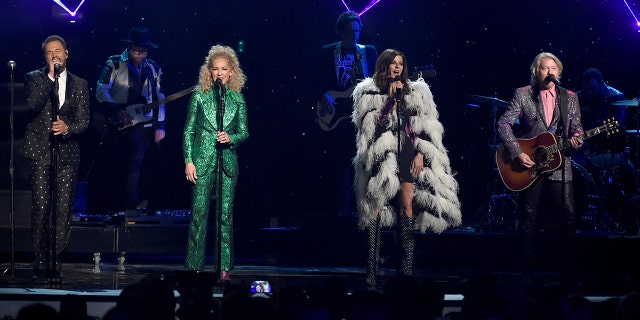 Old Dominion won vocal group of the year, besting Little Big Town and Lady Antebellum.
"This is heavy in a lot of ways," lead singer Matthew Ramsey said, holding the trophy in his hand.
"We're so lucky. Look at us, look at us!" he said about his bandmates, all dressed in trendy suits. "We look good. We feel good. We're friends. And we're having a ball.
"Thank you for letting us make music."
The Associated Press contributed to this report.