James Gunn fans buy billboard outside Disney World urging studio to rehire him for 'Guardians of the Galaxy 3'
Although he's taken a new job at DC, the battle for fired director James Gunn to be reinstalled at Marvel to helm "Guardians of the Galaxy: Vol. 3" isn't quite over yet.
A group of fans have started a GoFundMe page that's responsible for a billboard set up about four miles from Disney World that reads: "Save the Galaxy: James Gunn for Vol. 3." The campaign, which was started by the group responsible for the now-defunct RehireJamesGunn.com, has raised nearly $5,000 and managed to pay roughly $4,000 to run the digital billboard until Nov. 25. After that, that, they hope to buy another, more-expensive, sign just outside of Disney World, according to The Hollywood Reporter.
As previously reported, Gunn was abruptly fired from the Disney project after a series of old tweets resurfaced in which he joked about rape and pedophilia. The studio abruptly fired him, prompting fans and a large portion of the cast to object and stand behind him, arguing he's grown in the decade since making the tweets.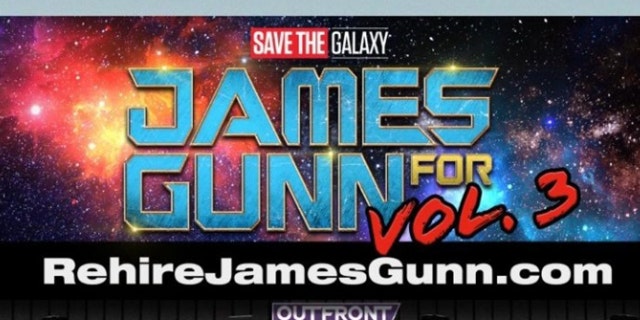 "My words of nearly a decade ago were, at the time, totally failed and unfortunate efforts to be provocative," Gunn, who deleted his Twitter account on Friday, said in a statement obtained by Variety at the time. "I have regretted them for many years since — not just because they were stupid, not at all funny, wildly insensitive, and certainly not provocative like I had hoped, but also because they don't reflect the person I am today or have been for some time."
However, Disney didn't budge and "Guardians of the Galaxy: Vol 3." is on hold for the time being. Meanwhile, the director and writer has been tapped by DC and Warner Bros. to helm the sequel to its critically maligned villain team-up, "Suicide Squad."
According to Deadline, local residents can see the billboard at 13541 Newhope Street in Orlando. It's also visible from the 22 eastbound freeway.