Jameela Jamil identified as her 'Good Place' character's sister on Golden Globe E! chyron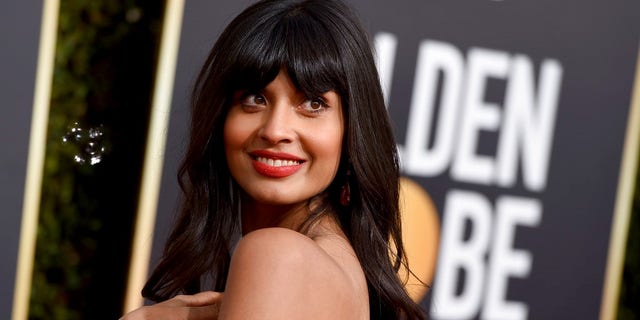 Was it an honest mistake or cheeky joke from a fan?
Jameela Jamil graced the 2019 Golden Globe Awards red carpet on Sunday as herself, but a writer for E! seemed to mix up "The Good Place" star with a character on the hit NBC series.
On "E!'s Live from the Red Carpet," the cameraman panned to Jamil walking the carpet with a lower third identifying her as "Kamilah Al-Jamil," the sister of Jamil's "The Good Place" character Tahani Al-Jamil. For fans of the series, the mistake is especially comedic because Tahani is constantly living in the shadows of Kamilah, who appears to be the more celebrated and successful sister despite everything Jamil's character does to outshine her.
CLICK HERE TO GET THE FOX NEWS APP
"Holy Forking Shirtballs. Did anyone else see my beautiful @jameelajamilposing on @eonlineTV Red Carpet @nbc for Pics & the Caption below her ACTUALLY Read:'KAMILAH AL JAMIL,'" a fan tweet upon seeing the mistake. "Have they LOST their FORKING minds? WHY take THIS away from 'Tahani' too? Is it a Prank?"
"tahani must be rolling in her grave right now," another person wrote.
One person tweeted, "This is the best thing that has ever happened to the Internet!! #TheGoodPlace"
Netflix also commented on the hilarious mistake.
"Give #TheGoodPlace fan who works at E! one billion dollars for this savage insult on a shot of Jameela Jamil that would ENRAGE Tahani," the streaming service tweeted.
Jamil didn't seem to mind the error and applauded it as a "joyous mistake." E! also did not address the chyron error.
"E live red carpet. This is legit the funniest thing I have ever seen. What a joyous mistake. Tahani would DIE! LOO LOL LOL. #witherTahani ?" the actress tweeted. "Hands down the greatest of red carpet jokes from whoever did this. It's made my night."