Iranian Filmmakers Sentenced to Six Years in Jail After Opposing Ahmadinejad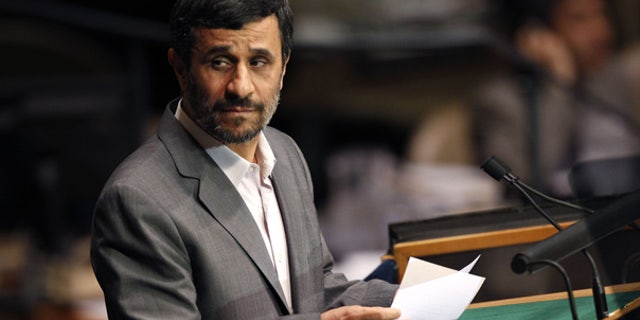 Iran has sentenced two prominent opposition filmmakers to six years in jail each on vague charges of working against the ruling system, their lawyers said Monday.
One of the two, internationally renowned filmmaker and opposition supporter Jafar Panahi, has won awards at the Chicago, Cannes and Berlin film festivals. Several of his films have been banned in Iran.
He has also been banned from shooting films or scriptwriting for 20 years and was barred from leaving the country for the same period, his lawyer Farideh Qeirat said.
"Panahi has been sentenced to six years in jail on charges of conspiring against the (ruling) system and is denied his professional rights including shooting films and scriptwriting," the semi-official ISNA news agency quoted Qeirat as saying. "He has also been barred from leaving the country for 20 years and from doing any interviews with domestic or foreign media during this period," she added.
Qeirat said she will appeal the unusually heavy sentence.
Mohammad Rasulov, another opposition filmmaker, received a six-year jail term, his lawyer Iman Mirzazadeh said. Mirzazadeh said he will also appeal the sentence.
Both filmmakers supported the opposition in Iran's disputed presidential election last June. Reformists say opposition leader Mir Hossein Mousavi was the rightful winner and that President Mahmoud Ahmadinejad won the vote through massive vote fraud.
Ahmadinejad's re-election has been challenged by a range of public figures, including filmmakers and singers who have expressed support for the opposition and criticized the harsh government crackdown on street protesters.
Panahi was arrested after Iranian security forces raided his Tehran home in early March. He was freed on bail in May. The 49-year-old acclaimed filmmaker was briefly detained last year when he visited the gravesides of the victims of Tehran's postelection unrest and was later banned from traveling abroad.
Another opposition filmmaker, Mohammad Nourizad, is serving a 3 1/2-year prison sentence for spreading propaganda against the government and insulting the country's leaders.
Iran has detained more than 80 political activists and figures accused of fomenting postelection unrest since August, sentencing them to death and prison terms, from six months to 15 years.