India threatens Pierce Brosnan with jail time over controversial advertisement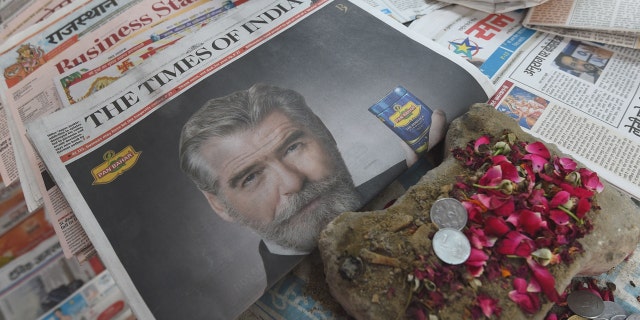 NEWYou can now listen to Fox News articles!
James Bond, also known as Pierce Brosnan, has been threatened with jail time after appearing in an ad for an Indian mouth freshener which can contain an addictive type of chewing tobacco.
Though the specific product that Brosnan promoted in his campaign did not contain tobacco, other types of the pan masala product contain tobacco, and it is illegal to advertise tobacco products in India.
View more photos of Pierce Brosnan here
On Monday, Indian law enforcement asked the Irish-born actor to explain why he made the decision to appear in an advertisement after his campaign for the pan masala product was featured on TV and in newspapers within the country.
Brosnan served as the face for the campaign, but the ad was quickly suspended after backlash emerged. According to The Guardian, Brosnan said he was "deeply shocked and saddened" that his image was used to promote a potentially dangerous product.
The actor was issued a show-cause notice and asked to explain why he chose to promote a company that sells tobacco-based products.
"We have issued the notice to Pierce Brosnan through the company, and also reached out to him via social media platforms," officials told the Indian Express newspaper.
If Brosnan does not respond to the notice in 10 days, the actor could be fined up to 5,000 rupees -- roughly 78 dollars -- or face up to two years in jail.
The "007" actor reportedly believed that he was promoting a "breath freshener/tooth whitener [and] all-natural, containing neither tobacco, supari nor any other harmful ingredient." He said he felt "grossly manipulated" by the Pan Bahar company when it came to his involvement.
Brosnan did not respond to Fox News' request for comment.