Hugh Hefner: Obama Should 'Get Out of the Wars,' FDR Was Best President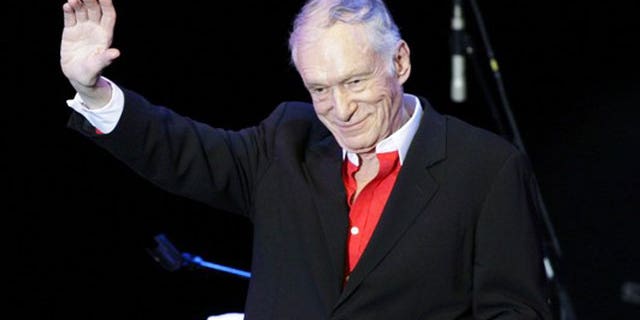 While Hugh Hefner is best known as the founder of men's magazine Playboy, over the last six decades, the 84-year-old has also played a particularly prominent role as a political and social activist – a side of him that has been illuminated in Brigitte Berman's new documentary "Hugh Hefner: Playboy, Activist and Rebel."
"The vision of this documentary was to explore the other half of my life that a lot of people don't really know about," Hefner told Pop Tarts. "But the film also shows how much all of us have changed, and how different life was in America all those years ago."
Although the politically-active publishing tycoon has yet to meet President Barack Obama, if the opportunity ever does arise, he has one important opinion he would like to share.
"(I would tell him) to get out of the wars, we're going through the same thing as Vietnam right now. We can't please the world and all we do is make enemies. We go in with the best possible intentions, but we make enemies," Hefner said.
So which Presidents has he met face-to-face?
"I've met (Bill) Clinton and I've met Jimmy Carter, he actually did a famous interview for Playboy, the Republicans turned it into quite a controversy," Hefner told us. "But my favorite President in my lifetime was [Franklin Delano] Roosevelt. I was a Democrat in a Republican household before I could even vote."
Hefner's controversial magazine and hedonistic lifestyle have drawn heavy criticism by many who feel both objectify and degrade women. So people may be surprised to learn about his endeavors as a champion of women's rights.
"The major beneficiaries of the sexual revolution, that Playboy played such a part in, were women. For so many centuries, women were just the property of their father and then their husbands – they were held hostage and perceived as cattle for almost 2,000 years," Hefner said. "It was only a few decades ago that women could have bank accounts or credit cards on their own – they were beholden to the male part of the population. What the sexual revolution did was give freedom to both sexes not only in the bedroom, but everywhere else."
In conjunction with his support of women's rights, Hef's Playboy Foundation (a non-profit organization he established in1965) also worked to advocate abortion rights across America. In particular, Hefner said he sent his legal team to Florida in 1971 after receiving a letter from a woman who was given a 15-year jail term and accused of manslaughter for having an abortion. The case was then re-opened and the woman was re-sentenced to house arrest for a minimal amount of time, and state abortion laws were later amended.
"We fought for birth control rights and the change in birth control laws, the change in abortion laws, we fought cases to give women the right to choose," Hefner explained. "For me it was part and parcel of same thing, I fought the same way for gay rights and black rights. I believe in the notion of democracy and the notion of being free. That's what I believe America should be all about."
On that note, Berman's documentary also brings to light the work Hefner did as a civil rights supporter. From 1959-61 he had his own television show "Playboy's Penthouse" to showcase his love for jazz music, and included both black and white performers together in a social setting which stirred so much outrage Hefner said that it was not distributed in the South.
Furthermore, when he initially started the chain of Playboy Clubs in 1960, he insisted the members be both black and white.
"The first black stand-up comics appeared in the Playboy Clubs where they had previously not been allowed in white clubs across the country. When we had clubs in New Orleans and Miami they refused to accept our black members and we bought the contracts back," Hefner said. "And I did that because it was the thing to do."
However, his quest to impact the social fabric of America came about long before his foray into the publishing arena.
"I was raised in a typical mid western Methodist home with a lot of repression. One part of my life was a quest for love, which is where all the girls come from, the other half was fueled by the films that I saw as a boy, films that spoke to the American Dream," Hefner added. "When I was in high school I got into trouble trying to change some the rules and I've been doing that ever since."
And while the men's magazine mogul certainly seems to have a very clear understanding of politics and what he does and does not believe in, one thing he can't seem to wrap his head around is the "sexual dysmorphia" that he says is part of American society.
"The Sexual Revolution arrived full blown in the 1960s, and the 1970s was a time of celebration and excess. In the 80s we got a backlash, the religious right put Reagan in the White House, and as a form of payback he gave them the Meese Commission who labeled everything – including Playboy – as pornography," Hefner added. "We live in a time now where there are explicit images of porn and sex everywhere, but at same time people are embarrassed by nude pictures. We seem to have more problems with nude images in public forums than we did back in the 1950s."