Hollywood joins chorus demanding Team USA uniforms be made in USA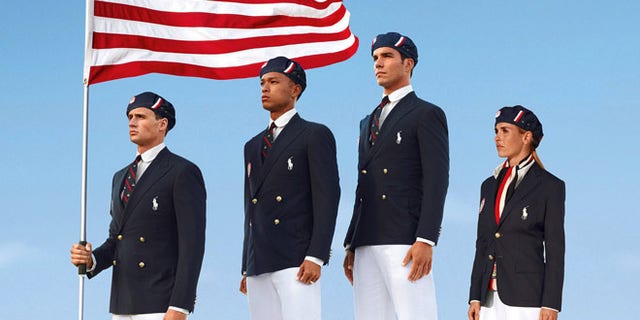 LOS ANGELES – When it was revealed last week that the Ralph Lauren designed U.S. Olympic uniforms for the London Games were manufactured in China, political leaders on both sides of the aisle expressed their displeasure.
Senate Majority Leader Harry Reid (D-Nevada) called the move upsetting and suggested that "they should take all the uniforms, put them in a big pile and burn them and start all over again." House Speaker John Boehner (R-Ohio), chimed in: "You'd think they know better." Lawmakers are now expected to introduce the Team USA Made in America Act of 2012 to ensure this does not happen again.
Many in Hollywood who we talked to agree.
DJ Ashba, lead guitarist of Guns N' Roses and owner of the all-American-made label ASHBA Swag, told us he was shocked that Ralph Lauren "would go as far as to cut costs on something so sacred as the U.S. Olympics."
"You get what you pay for, what American wouldn't be disappointed," he said. "At ASHBA Swag it is all about the quality. We don't sacrifice quality ever, especially not to save a few cents on the dollar. All our stuff is made in the USA and we are very proud of that."
"True Blood" star Carolyn Hennesy told FOX411's Pop Tarts column: "It is undeniable that Ralph Lauren remains a design and fashion genius. But undeniable as well is his lack of American pride and patriotism."
Charley Koontz of NBC's "Community," echoed the dismay and questioned why we don't hold companies like Ralph Lauren to a higher standard in terms of U.S. job creation.
"I would like to see the U.S. Olympic team wearing uniforms made in the U.S. this year, but I would definitely prefer to see more factories filled with Americans making those polo shirts with that crazy, giant horse on them every day," he said.
The U.S. Olympic Committee (USOC) acknowledged the outrage, yet defended the cost-savings of manufacturing the uniforms abroad, noting that "unlike most Olympic teams around the world, the U.S. Olympic team is privately funded."
"We take seriously the concerns we've heard from members of Congress and the American public regarding the U.S. Olympic Team's Opening and Closing Ceremonies uniforms," United States Olympic Committee CEO Scott Blackmun stated. "We are absolutely committed; however, to working with our sponsors to ensure that the concerns voiced are addressed. In the meantime, we ask for the American people's support. Our country should be proud of the individual athletes that will represent them in London and I'm hopeful that everyone will rally around Team USA."
A poll conducted this week by the Wall Street Journal found that 52 percent of responders feel that Team USA's uniforms should be made here, but said trashing the current uniforms and starting from scratch could be more trouble than it is worth.
"It would be a nice gesture for Ralph Lauren to suck it up, toss the current inventory and make the uniforms in the USA. But that could be perceived as an overreaction and cause bigger international repercussions," crisis manager Glenn Selig cautioned. "It would certainly make an embarrassing chapter last even longer."
China's state-run Xinhua News Agency has already criticized the hoopla made of the issue by political figures in the U.S., referring to it as "narrow nationalism and ignorance," and ChinaDaily.com wrote that it "is ridiculous for U.S. politicians to politicize the Olympic Games, which are intended to bring nations together."
Ralph Lauren did not respond to a request for further comment, but in a statement released earlier this week, vowed to have the uniforms it provides for the U.S team at the 2014 Winter Games in Sochi, Russia come with a "made in America" tag. And while the label may now be taking the heat, Selig said if we really want to make a difference, we should each be paying closer attention to all our clothing tags.
"Most people do find making Team USA uniforms in China a slap in the face. This speaks to a bigger problem than just the Olympics. It clearly would have been better for the uniforms to be have been made in the USA and Ralph Lauren should have thought that through," Selig added. "But because so many companies do the same thing, and nearly everyone wears and buys items made in China, we are all sort of guilty of the same thing."
Danielle Jones-Wesley contributed to this report.