Highlights from the Big Apple BBQ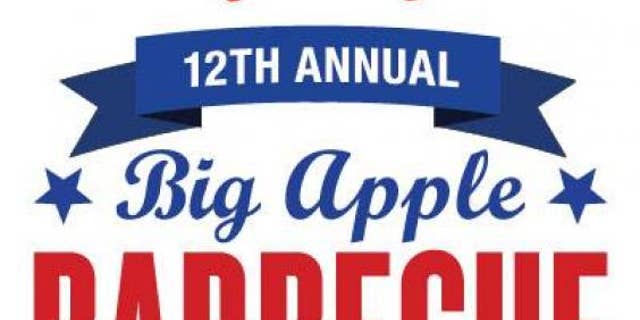 NEWYou can now listen to Fox News articles!
What do you get when you take the best pit masters in America and you put them in New York City? The Big Apple BBQ!
It's happening all weekend and "Fox & Friends" has got some of the best to share their grilling secrets with us!
Joe Duncan's St. Louis Style Ribs
St. Louis ribs are the best cut of pork spareribs. They are the very center of ribcage. It is like taking a cookie cutter and cutting out the best part of ribs. We use a 2 ¾ lb St. Louis rib. After cooking, they weigh approximately 1 ½ lb. We use a dry rub of seasonings to really bring out the flavor in the ribs. Baker's Ribs uses "St. Louis Cut" ribs because this cut yields best flavor. The secret to tender juicy ribs is cook them low and slow.
Cook time: 4 to 5 hours
Feeds: 2 to 3 people
Ingredients
Slab of St. Louis Style Pork Ribs (approximately 1 lb ½)
Ingredients for the BBQ Rib Rub
1 cup of brown sugar
1 tablespoon granulated garlic
1 tablespoon Paprika
1 tablespoon Kosher Salt
1 teaspoon cayenne pepper
1 teaspoon black pepper
1 teaspoon white pepper
Method
Rinse the ribs.
Combine all ingredients in a large bowl and mix well.
Rub all the spices heavily covering the entire rib making sure to coat the top of the ribs completely. Be sure to show the ribs some love, taking your time to rub in the ingredients which will bring that flavor you are looking for.
Place Ribs membrane side down with the meat side up on your grill or smoker.
Slow cook the ribs at 250 degrees for 4 to 5 hours. If you cook with too high of heat, your ribs will burn before the insides have a chance to cook.
Dig in!
For more info, visit bakersribs.com
Big Bob Gibson's Bar-B-Q Chicken
Ingredients
2 whole butterflied chickens
1 tablespoon salt
½ cup oil (vegetable, olive, lard)
2 teaspoons black pepper
Method
Build a fire (wood or a combination of charcoal and wood) for indirect cooking by situating the coals on only one side of the cooker, leaving the other side void. Preheat the cooker to 325°F.
Dust each whole chicken evenly with salt. Place the chickens over the void side of the cooker, with the skin side up. When the skin on the chicken is golden brown, after about 1 ½ hours, turn the chickens skin side down, basting both sides with the oil. Sprinkle the cavities of each chicken evenly with pepper. Cook the chicken for an additional 1 ½ hours or until the internal temperature of the thickest part of the thigh reaches 180°F. Add more wood to the fire as needed to replenish the supply of coals and maintain a temperature of 325°F.
Pour the white sauce into a narrow, deep container and position it next to you cooker. Remove each chicken from the cooking grate and submerge it into the pot of white sauce. Remove the chicken from the sauce, cut each chicken in half between the breasts, and then quarter by cutting between each breast and thigh.

Big Bob Gibson's White Sauce #2
Ingredients
1 ¼ cups Duke's mayonnaise
¾ cup distilled white vinegar
1 teaspoon fresh lemon juice
1 tablespoon coarsely ground black pepper
1 teaspoon sugar
1 teaspoon salt
Method
In a medium bowl, combine the mayonnaise, vinegar, lemon juice, pepper, sugar, and salt. Use immediately or store in an airtight container in the refrigerator for up to 2 weeks.
For more info, visit bigbobgibson.com
Executive Chef Jean-Paul Bourgeois' Chow Chow
Ingredients
20 oz. cauliflower, small florets
15 oz. green bell peppers, small dice
15 oz. red bell peppers, small dice
12 oz. cabbage, small dice
6 oz. Spanish onion, small dice
6 oz. jalapeno, small dice
1 qt. cider vinegar
1 qt. champagne vinegar
1 tsp oz. turmeric powder
1 oz. sriracha
15 oz. by weight, honey
1.5 oz. salt
25 oz. granulated sugar
2 cups water
1 cup French's yellow mustard
1 cup whole grain mustard
Method
Prepare all of the above vegetables and mix in a 12 qt. cambro.
Heat the second set of ingredients in a pot and bring to a boil. Pour over the vegetables, weigh vegetables down with a plate, and refrigerate, covered for three days.
Strain vegetables from liquid, reserving 2 cups of pickle liquid.
Mix in mustard to vegetables. Stir in liquid till mixture is slightly spreadable. Mixture can be stored in the refrigerator, covered for up to three months.
Enjoy on hotdogs, hamburgers or fresh sausages!
For more info, visit bluesmoke.com