Guy dressed in 'Deadpool' costume arrested with friend at gunpoint on their way to see the film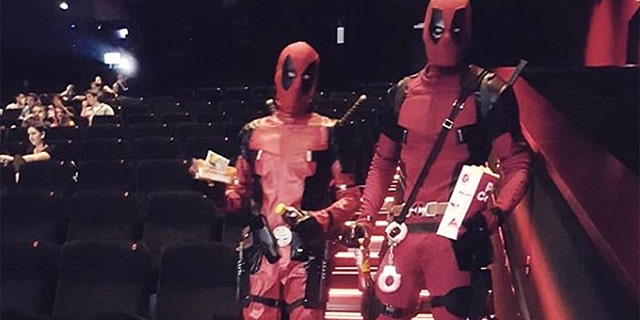 Two "Deadpool" fans were arrested at gunpoint while on their way to see the new superhero flick because one of them was donning a full-on costume of the character.
A man named Alessandro Botta and his friend, Christian, were on their way to a movie theater in Locarno, Switzerland on Monday, when the two were stopped by several policemen with their guns drawn, The Daily Mail reported.
Botta, who was the one not in costume, said he was surprised by the swift police reaction.
"Neither of us thought it would be a problem. I did not understand why and my attempt to tell him that it was a misunderstanding was useless," he told Tio, an Italian news outlet.
Photos of the event were then shared on the Tio Facebook page, showing what appeared to be more than six officers handcuffing the pair after having forced them to lie facedown on the ground.
The two were then taken to the police station, where they were held for about an hour before being released. Christian, who was dressed as Deadpool, was reportedly fined under a Swiss law prohibiting face coverings in public.
"After the initial tension the police also realized what we were doing. The officers had a good laugh about it," Botta said.
Lugano police later explained that they had responded to a report of someone carrying two guns, which were part of Christian's "Deadpool" ensemble.
"The procedure was part of operational tactics. [Police] have to intervene as quickly as possible when they receive this type of information," the police said.
According to the Mail, security measures across Europe have been heightened after reports of terrorist attacks surfaced and following the news that a 19-year-old who was planning a school massacre in the same area was arrested recently.