'Gone Girl' wins box office race again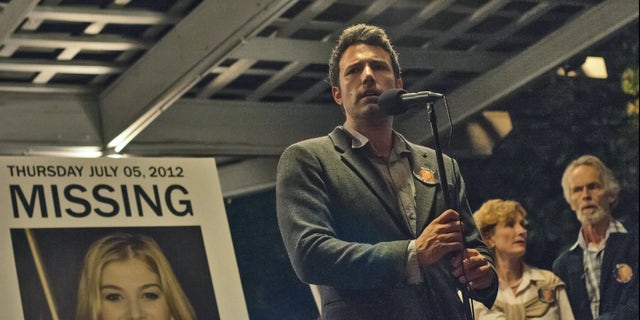 "Gone Girl" and "Dracula Untold" emerged unscathed from a pile-up at the box office this weekend, while Robert Downey Jr.'s "The Judge" got banged up from the collisions at the multiplexes reports Variety.
David Fincher's adaptation of Gillian Flynn's marital mystery was tops for the second week in a row, unearthing $26.8 million and bringing its total to $78.3 million. At this rate, it could surpass "The Curious Case of Benjamin Button" ($127.5 million domestic) as Fincher's biggest commercial success.
Meanwhile, "Dracula Untold" exceeded pre-release tracking, sinking its fangs into $23.5 million across 2,887 locations. The story of how Vlad the Impaler developed a taste for blood arrives courtesy of Universal Pictures and cost $70 million to produce.
That "The Judge" got made at all is a testament to Downey Jr.'s star wattage, but his power was not great enough to secure a strong opening for the court room drama. "The Judge" grossed a disappointing $13.3 million from 3,003 locations, lower than pre-release estimates which put it in the $16 million to 18 million range. The film was produced by Warner Bros. and Village Roadshow for $50 million, but struggled to find a place among older audiences who were lured instead to "Gone Girl."
Younger crowds turned out for Disney's "Alexander and the Terrible, Horrible, No Good, Very Bad Day," as the $28 million production picked up a respectable $19.1 million from 3,088 locations.
Among holdovers, "Annabelle" dropped 58% in its second weekend to $16.4 million, but the horror film ranks as an unqualified success for NewLine. It will pass the $100 million mark globally this weekend — not bad for a picture that only carries a $6.5 million price tag.
Also sticking around, "The Equalizer" added $9.7 million to its nearly $80 million bounty. At this rate, it will likely pull in $100 million domestically, only the fifth Denzel Washington film to hit that mark. "The Maze Runner" is also eying $100 million domestically, adding $7.5 million to its $83.8 million total.
In limited release, "St. Vincent," the story of a curmudgeon (Bill Murray) who befriends the boy next door, earned $121,054 in four theaters. Its $30,920 per-screen average will likely be the highest one for the weekend. The comedy, which was co-produced by The Weinstein Company and Chernin Entertainment, will expand to 60 theaters in the top 25 markets next weekend before going wide on October 24.
Another awards hopeful, Sony Pictures Classics' "Whiplash" picked up $143,503 on 6 screens for a per-screen average of $23,917. The film features Miles Teller as a musical prodigy and J.K. Simmons as his demanding mentor. Reviews have been sterling.
Journalism drama, "Kill the Messenger," which finds Jeremy Renner sans crossbow as a reporter who exposes CIA corruption, grossed $939,000 from 374 theaters. Focus Features is distributing the picture.
Overall, the box office was up more than 25% from the year-ago weekend, when "Gravity" topped the box office for a second week in a row and "Captain Phillips" opened at more than $25 million.