Golden oops: Globes' Twitter confuses America Ferrera with Gina Rodriguez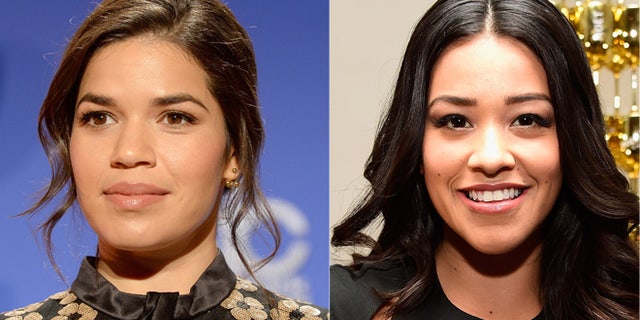 Latino stars are shinning bright at the Golden Globes – but it seemed a little much for the person handling the Hollywood Foreign Press Association's official Twitter account.
Leading up to the announcements of the nominations on Thursday, the account briefly confused "Jane the Virgin" actress Gina Rodriguez and former "Ugly Betty" star America Ferrera.
".@HereisGina is kicking off the @goldenglobe nominations announcements #GoldenGlobes," the HFPA's official feed sent out.
But, oops, it was Ferrera who was the nominations presenter Thursday morning.
The tweet was quickly deleted – but not fast enough for some fans to catch the error.
Despite the gaff of confusing one Golden Globe winner from another – America was the first Latino to win the best TV actress a few years back, and Rodriguez won in the same category in January – the nominations got underway and the HFPA showed its love for Latinos in front and behind the camera.
This is the not first time that a major award show's social media has been confused about Latina stars.
At the Academy Awards in 2014, the Academy of Motion Picture Arts & Sciences had a case of mistaken identity when they mistook Penelope Cruz with Salma Hayek in a backstage photo.
Remember: Not all Latinas look alike.
Like us on Facebook
Follow us on Twitter & Instagram