'GMA' host Robin Roberts completes bone marrow transplant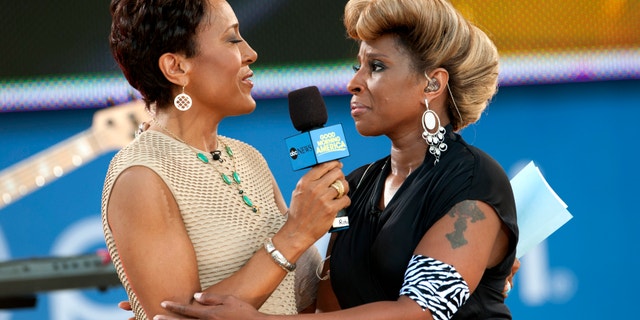 "Good Morning America" co-host Robin Roberts underwent a bone marrow transplant Thursday as part of her treatment for MDS, a rare blood disorder.
Before the transplant, Roberts released a video message thanking her fans for their support.
"This journey is as much about the mind as it is the body," she said. "You have to change the way you think in order to change the way you feel. ... I feel the love, and I think you for it. Thank you."
Her sister, Sally-Ann, was the donor, and the entire procedure took five minutes, ABC News reports. Several family members and close friends, including Diane Sawyer and her "GMA" colleague, Sam Champion, were present for the transplant, according to ABC. When it was complete, the group reportedly sang "Ain't No Mountain High Enough."
Robin Roberts exits Good Morning America early
On Friday, Roberts' doctor said she was already making strides in her recovery.
"This morning, she sounds energized and she wants to be out of bed and the end of the e-mail was, 'I want to go home' with an exclamation point," oncologist Dr. Gail Roboz said on Good Morning America Friday.
Though doctors said they don't expect to see "significant signs of recovery" for about 10 days, Roberts will be closely monitored to see if the transplanted cells are taking. If all goes well, she should start to feel better in about two weeks.
Roberts underwent chemotherapy for 10 days prior to the transplant, ABC reports.