Girl band Good English loses gigs after drummer defends Stanford rapist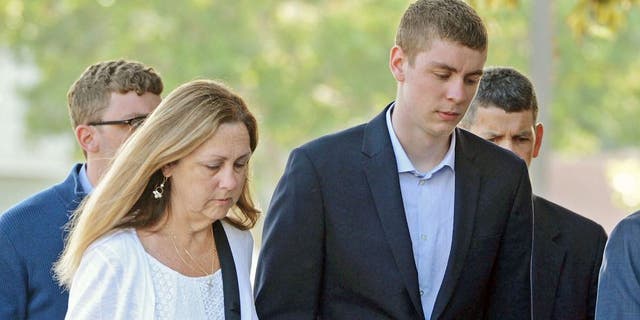 A Brooklyn music festival cut a girl band from its lineup after it was revealed that its drummer — a childhood friend of the convicted Stanford University sex attacker — penned a letter to the California judge in his defense.
The Northside Festival posted on its Facebook page Tuesday that the Ohio-based band Good English is "no longer playing" the multi-day music fest "due to recent information brought to our attention."
Leslie Rasmussen, a drummer for the three-sister rock band from Oakwood, Ohio, wrote a letter to Santa Clara Superior Court Judge Aaron Persky defending Brock Turner, the ex-Stanford swimmer who sexually assaulted an unconscious woman behind a dumpster in 2015 and blamed his conviction on political correctness.
"I don't think it's fair to base the fate of the next ten + years of his life on the decision of a girl who doesn't remember anything but the amount she drank to press charges against him," Rasmussen wrote in the letter in which she called Turner "innocent."
"I am not blaming her directly for this, because that isn't right. But where do we draw the line and stop worrying about being politically correct every second of the day and see that rape on campuses isn't always because people are rapists."
The letter continued, "This is completely different from a woman getting kidnapped and raped as she is walking to her car in a parking lot. That is a rapist. These are not rapists. These are idiot boys and girls having too much to drink and not being aware of their surroundings and having clouded judgment."
Rasmussen chalked up the case to a "huge misunderstanding."
Turner was found guilty of three felony sexual assault counts for the January 2015 attack.
Before Northside Festival announced that it had booted Good English from the lineup, angry people took to social media to express their outrage.
"Leslie Rasmussen is in a band called Good English and are playing a string of shows soon. Please don't support them," wrote Twitter user @dangitanh.
Facebook user Hazel Oosterhof wrote on the Facebook page for Northside Festival, "you profile yourself as 'a stage for [..] thought-leaders' and as an encouragement to 'think outside the box'. Step up your game and show what kind of 'out-of-the-box' you do and do not support. Don't let Good English play."
Northside Festival replied to the post, "This was brought to our attention and the band is no longer playing."
Users cheered the festival on their Facebook page for nixing the band, which five Brooklyn venues were set to host this weekend.
"Good move guys, thanks for protecting the women of New York," wrote Danielle Guercio.