'Funny People' Takes Box Office Crown With $23.4M Weekend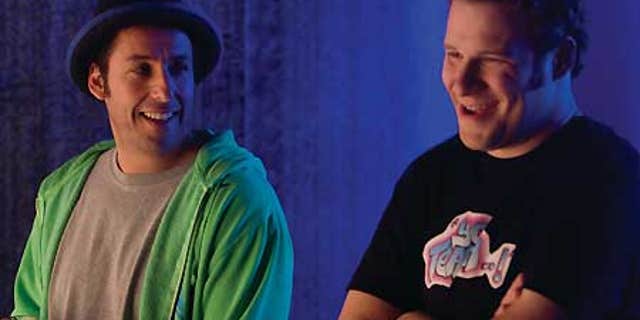 LOS ANGELES – Adam Sandler's serious side has caught on with audiences.
Universal Pictures' "Funny People," with Sandler trading adolescent humor for an adult story about a terminally ill comedy star, debuted as the top weekend movie with $23.4 million, according to studio estimates Sunday.
It was a modest weekend for Hollywood, with the shadow of last summer's juggernaut "The Dark Knight" hanging over the current blockbuster season. Overall summer revenues, which had been running ahead of last year's since early May, dipped below those of 2008, when "The Dark Knight" was packing theaters for weeks on end.
"It's staggering how strong 'The Dark Knight' was last year. At this point last year, 'The Dark Knight' had added nearly $400 million to the summer box office. How can you compete with that?" said Paul Dergarabedian, box-office analyst for Hollywood.com.
Revenues this weekend came in at $122 million, down 20 percent from a year ago, when "The Dark Knight" led with $42.7 million, followed by "The Mummy: Tomb of the Dragon Emperor" with $40.5 million.
"The Dark Knight" went on to a $533 million domestic haul, the biggest hit since "Titanic."
Since the summer season opened the first week of May, Hollywood's domestic receipts total $3.34 billion, off 0.8 percent through the same weekend last summer, according to figures compiled by Hollywood.com.
Factoring in this year's higher ticket prices, movie attendance this season is down 4.4 percent compared with summer 2008.
Next weekend's new action tale, Paramount's "G.I. Joe: The Rise of Cobra," has great fan buzz and could help set Hollywood back on track to break last summer's domestic revenue record of $4.2 billion, Dergarabedian said.
For the year, movies have rung up $6.43 billion, on pace to break the revenue record of $9.68 billion set in 2007.
Coming in second for the weekend was the Warner Bros. fantasy adventure "Harry Potter and the Half-Blood Prince" with $17.7 million, raising its domestic total to $255.5 million.
Disney's family action tale "G-Force," the previous weekend's top movie, slipped to third with $17.1 million, lifting its total to $66.5 million.
The weekend's other new wide release, 20th Century Fox's family flick "Aliens in the Attic," opened at No. 5 with $7.8 million.
"Funny People" debuted well below most of Sandler's comedies, which typically start with $30 million to $40 million opening weekends. Universal is counting on good word of mouth to keep it alive for a long run at the box office.
The movie pairs Sandler as the dying comic with Seth Rogen as his new assistant and joke writer. It also reunites Rogen with his "Knocked Up" director Judd Apatow, a longtime friend and former roommate of Sandler.
Nikki Rocco, head of distribution for Universal, compared the shift in tone for Sandler to Tom Cruise's turn as a hit man in "Collateral," a film that opened in the same range then held on to become a $100 million hit.
"This is Adam and even Judd to an extent stretching out in their careers to something that's a bit out of the norm," Rocco said. "A big movie star in a different kind of role."
Estimated ticket sales for Friday through Sunday at U.S. and Canadian theaters, according to Hollywood.com. Final figures will be released Monday.
1. "Funny People," $23.4 million.
2. "Harry Potter and the Half-Blood Prince," $17.7 million.
3. "G-Force," $17.1 million.
4. "The Ugly Truth," $13 million.
5. "Aliens in the Attic," $7.8 million.
6. "Orphan," $7.3 million.
7. "Ice Age: Dawn of the Dinosaur," $5.3 million.
8. "The Hangover," $5.1 million.
9. "The Proposal," $4.8 million.
10. "Transformers: Revenge of the Fallen," $4.6 million.