'FrackNation' filmmaker claims group of farmers was barred from 'Gasland Part II' screening at Tribeca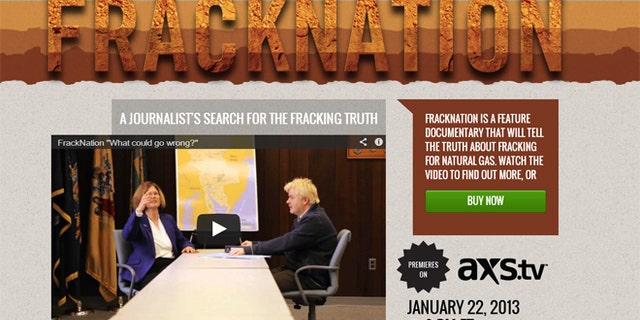 "FrackNation" filmmaker Phelim McAleer claims he, along with a group of farmers, was kept out of the Tribeca Film Festival screening of "Gasland Part II," an anti-Fracking documentary.

He said the exclusion came after he began asking the film's creator, Josh Fox, some tough questions about fracking on the red carpet before the screening.

"I was there on my own and I started asking the question and these farmers started joining in and asking the questions," McAleer told FOX 411. "It became noisy. It was respectful, not intimidating."
But when it came time to enter the theater for the screening, McAleer said he and the farmers were told they could not come inside.
"What happened was they said 'oh no, you can't come in. We don't feel comfortable with you coming in'… They had security block us. They called the cops."

In an opinion article written for the New York Post, McAleer wrote about the farmers' disappointment at being barred from the movie screening.

"Sherry Hart, a mother of three and the wife of a gas worker, was particularly excited to be there. She lives in Pennsylvania and had never been to New York City, but she felt that it was important to make the journey to see what was being said about her and her life," McAleer wrote in the article. "But she was not to find out."
The festival issued a statement about the incident, blaming a lack of space for the farmers' exclusion from the screening.
"Guests that had purchased advance tickets and were in line for the film 30 minutes prior, as our ticket policy states, were admitted into the screening," read the statement sent to the FOX 411. "We are sorry that the few ticket holders who stayed outside gave up their seats to those who waited in line. The film is being shown three more times during the festival and we welcome them to come to any of those screenings. Tickets are still available."
But McAleer claimed in his article that there were empty seats at the screening and that his group was turned away for asking "inconvenient questions." He added that he doesn't expect the farmers to return to Manhattan to try to view the movie again.

"People traveled from 4:30 in the morning to see the movie," he said. "[Festival founder] Robert De Niro needs to send a limousine to [upstate] New York and Pennsylvania to bring these people in," he suggested, adding that they will not be able to return on their own.