Fox411's Summer Movie Preview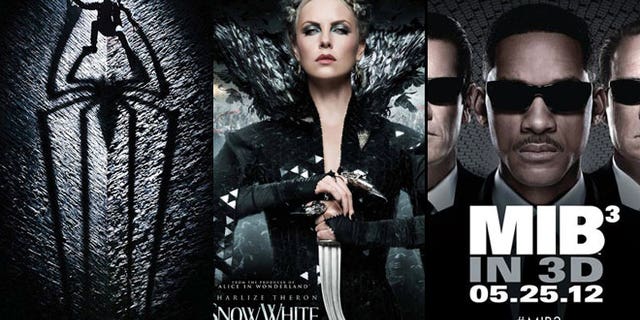 Are you ready for summer? Hollywood sure is and they have a slate of scorching hot blockbusters bursting to prove it. Batman and Spider-man are suiting up for box office domination (but can either beat Marvel's "The Avengers?") Stallone and friends are chompin' down on gunpowder, sweat and red meat. While Woody Allen hearts Rome, a former Prez hunts bloodsuckers and Channing Tatum loses his shirt (again). The Iron Lady goes to couples counseling, Tom Cruise sings and Ridley Scott renews his interplanetary visa. That's right, folks. Summer 2012 has arrived!

MAY

"MEN IN BLACK III" (May 25)

Oh, no! Tommy Lee Jones' Agent K gets off'd in 1969, altering the timeline and universe. Present-day Will Smith does the time warp to rescue young Agent K (Josh Brolin) and restore balance to the force –um, universe. Has it really been a decade since "MIBII"?

"MOONRISE KINGDOM" (May 25)

Eclectic auteur Wes Anderson reunites with a cast of talented off-beat actors (like Bruce Willis, Bill Murray, Ed Norton, Tilda Swinton, Frances McDormand) for a quirky adventure about two kids who fall in love in 1965 and run off, turning their island town into disarray. Expect odd characters, dead-pan dialogue and oodles of hilarity in the background.

JUNE

"SNOW WHITE AND THE HUNTSMAN" (JUNE 1)

Snow White in Middle Earth is what this adaptation looks like. This highly-stylized version will hopefully remove the bad taste from that Julia Roberts one from earlier this year. Charlize Theron looks deliciously evil as the Queen and rising superstar Chris Hemsworth ("Thor," "Avengers") is back wielding a blunt instrument. Kristen Stewart's in this, too.

"PROMETHEUS" (JUNE 8)

One of the most highly anticipated movies of the decade is Ridley Scott's quasi-"Alien" prequel. Scott hasn't been to space since and "Prometheus" looks like a long-awaited return to his angular, gothic styling from "Alien," "Blade Runner" and "Legend." Written by "Lost" scribe Damon Lindelof with a superlative cast: Noomi Rapace, Idris Elba, Michael Fassbender, Charlize Theron and Guy Pearce.

"MADAGASCAR 3: EUROPE'S MOST WANTED" (JUNE 8)

Dreamworks' animated hit franchise continues. Alex, Gloria, Melman and Marty are trying to get back home to New York City but get themselves into trouble when they join a traveling European circus. The penguins are back – and that's what matters most.

"ROCK OF AGES" (JUNE 15)

Tom Cruise, Alec Baldwin, Julianne Hough, Catherine Zeta-Jones, Bryan Cranston and Mary J. Blige star in this rock musical based off the hit Broadway show. Plot: A boy meets a girl and they sing about it. Tom Cruise and Twisted Sister? Nuf said. This one will be a hit for sure.

"BRAVE" (JUNE 22)

It's hard to go wrong with Disney-Pixar. This summer's adventure has a fiery quiver-laden redheaded Scot named Merida making waves across the highlands as she fights for her right to independence, causing upheaval in the land. The animation looks absolutely stunning and Merida looks to be a new classic Disney character. This is one to look for.

"ABRAHAM LINCOLN: VAMPIRE HUNTER" (JUNE 22)

What? You didn't know Lincoln hunted vamps? Producer Tim Burton wants to show you what honest Abe was really doing when he wasn't freeing slaves or building log cabins.

"TO ROME WITH LOVE" (JUNE 22)

It wouldn't be summer without a new Woody Allen movie. This time Woody takes his wit, heart and cynicism to Rome. Could this be another winner for Allen? He'll try with Ellen Page, Alec Baldwin, Jesse Eisenberg and Roberto Benigni (Remember him?). If not, we'll always have Paris. Plus, Woody's actually in this one.

"MAGIC MIKE" (6/29)

Steven Soderbergh is an impossible director to classify and "Magic Mike" is further proof. The film is partly based on star Channing Tatum's past as a male stripper trying to jump-start his life away from the pole. Matthew McConaughey co-stars as an aging stripper.

"G.I. JOE: RETALIATION" (JUNE 29)

This one looks to be a tremendous improvement over the first film. The Joes are back and fighting COBRA as well as spies within the US government. Brain on low, adrenaline on high and this should be a fun ride.

JULY

"THE AMAZING SPIDER-MAN" (JULY 3)
Rebooted after only five years, this Spidey doesn't look too dissimilar to Sam Raimi's trilogy, albeit a little less campy. But we'll bite. Andrew Garfield looks to be a fantastic Peter Parker and Emma Stone has yet to displease. Could this be the best Spider-man yet?

"THE DARK KNIGHT RISES" (JULY 20)

What can top this? Christopher Nolan concludes his epic Batman trilogy. The Dark Knight goes up against the ferocious villain Bane who is terrorizing Gotham. Nolan's previous Batman films have pushed the boundaries for intelligent, sophisticated popcorn movies and this looks to surpass them all.

AUGUST

"THE BOURNE LEGACY" (AUGUST 3)

Jeremy Renner takes over the franchise from Matt Damon. The fantastic writer/director Tony Gilroy ("Michael Clayton") takes the helm. Ed Norton and Rachel Weisz join the cast in an adventure that branches off from the events from the previous trilogy. Should be smart, should be fun.

"TOTAL RECALL" (AUGUST 3)

Can this remake be better than the original with Arnold? It's exciting to see Colin Farrell in this role, but the movie just looks like special effects overload. The original is a trip; hopefully this one will be, too.

"HOPE SPRINGS" (AUGUST 10)

Meryl Streep is back after her Oscar win for "The Iron Lady" and this time she's joined by Tommy Lee Jones and Steve Carell. Streep and Jones attend a couples counseling weekend to repair their marriage. With that trio of great actors "Hope Springs" should be the "dramedy" of the summer.

"THE EXPENDABLES 2" (AUGUST 17)

Sylvester Stallone. Boom! Jason Statham. Boom! Bruce Willis. Boom! Arnold Schwarzenegger. Cigars! Chuck Norris. Jean-Claude Van Damme, Dolph Lundgren, Jet Li, Randy Couture, Mickey Rourke, John Travolta. Total testosterone explosion times two!

"PARANORMAN" (AUGUST 17)

This stop-motion animated film looks to be a hidden gem to close the summer. Young Norman is struck with the ability commune with the dead and he's the only one able to prevent a zombie attack on his small town. If you enjoyed "Coraline," "ParaNorman" should be a treat.