Florida Georgia Line 'don't really know' what 'bro country' means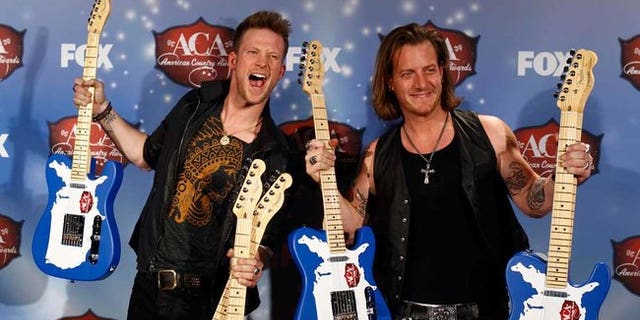 NEWYou can now listen to Fox News articles!
NEW YORK – Country duo Florida Georgia Line have cruised their way to success in just a little over a year. The "This Is How We Roll" singers shattered records when their single "Cruise" topped Billboard's Hot Country Songs for 22 weeks in a row, making the song the most popular in the genre's history.
Music fans just can't seem to get enough of the often labeled "bro country" singers. They recently released more music and are already working on their next album.
"We're working on a new album and you never know, we could have a surprise on that one," Florida Georgia Line's Brian Kelley told FOX411.
After seeing much success collaborating with rap artist Nelly and fellow country singer Luke Bryan on songs, Kelley hinted similar collaborations might be in the works.
"It's too early to say but I mean, I think our album wouldn't be complete without a collaboration or two," Kelley teased.
Who they would work with is still uncertain, but Kelley revealed that he had wish-list of "incredible" artists he'd like to collaborate with.
"Within country music, Ronnie Dunn and Garth Brooks are the two top guys, and outside of country we like Drake and Rihanna."
Whoever they work with, they just want to create country music that people love, "bro" or not. They're sick of the labels and say they "feel at home" in Nashville.
"We've heard the term 'bro country', and I don't really know what it means," Kelley told FOX411. "People like to label things I guess these days. What's country? What's not country?"
But since day one, the band set out to create music that's "fun and that's fresh."
"Our music's got all of our influences in one," Kelley explained. "We just call it the Florida-Georgia-Line sound."
And what do they have to say to those saying they're not country enough? "I think the fans, the award shows, that's kind of answered that," said Kelley. "It feels at home where we're at. We're having the time of our lives."
The duo, who have toured with country's biggest stars, including Jason Aldean and Luke Bryan, have picked up a few pre-tour rituals on the road.
"We started a ritual for our crew to hang out in our vibe room with big TVs and speakers and we watch the highlights of every show and get everyone pumped up each night," said Kelley. "We get in a circle and do in with the good, out with the bad, say a prayer, do a chant and get a little Fireball mixed up in there."
With all of the good heading their way, the band has been working with Outnumber Hunger to give back.
"Outnumber Hunger is something close to our hearts," said Hubbard of the organization which aims to end hunger in the United States.
"It was a no brainer [to partner with Outnumber Hunger] because there are so many people that are struggling with hunger in the U.S. and no one should be struggling," said Kelley.
"Too much good is happening to us right now to not give back."