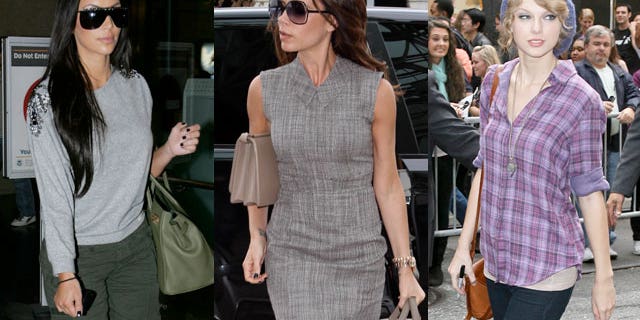 NEWYou can now listen to Fox News articles!
By nature, trends don't tend to stick around very long and are out of style just as soon as they become all the rage (hello last season's 80's revival!). However, there are select "trends" that shouldn't even be lumped in that category since they have proven they can stand the test of time (paging all things boho-chic!).

The Fall 2010 runways were replete with fresh, fashion-forward styles that can help update your wardrobe now and keep you stylish for years to come.
Read on for our top 5 timeless trend picks!
SLIDESHOW: How to Wear These 5 Foxy Fall Trends
Neutrals
Pale neutral shades like peach, ivory, beige, and pale pink have replaced black as the new go-to hue. The Fall 2010 and Spring 2011 runways were heavily dominated by monochrome neutral looks and you can't have a red carpet event these days without seeing at least one starlet rocking an LND (Little Nude Dress). So what's so great about going nude? Well for starters, pale shades are just as slimming as black but are more flattering against just about any complexion. Plus, neutral pieces are more versatile and can be styled to suit any season. Just add opaque tights, a cozy knit and a pair of boots to those light, ethereal dresses you wore with sandals in the summer and you're all set with a fabulous fall-ready ensemble.
If you're feeling iffy about wearing light shades during the dark seasons, don't! Once upon a time, being "fashionable" meant abiding by a set of stringent rules: no white after Labor Day, no socks and sandals, no clashing prints. Fortunately those days are over and the rules are there ain't no rules. So invest in some floaty cream blouses, nude cocktail frocks, beige pants, flesh-tone pumps- this shade is here to stay so work it!


Military
The military trend is one that never really goes away, it just resurfaces at different levels, and right now it's marching on stronger than ever. There are so many types of military pieces to choose from- vests, jackets, pants, skirts, dresses, even bags and shoes, all of which can update your wardrobe and inject a fashion-forward sensibility into your style.
Pair a military jacket with a feminine dress to merge soft and tough. Wear a pair of cargos with sexy pumps and a sharp blazer for a sexy and sophisticated style that radiates effortlessness. And we have to give an honorable mention to the army jacket which literally goes with anything and always speaks chic. Great style is all about balance and military pieces are ideal when it comes to mixing and matching different elements.
Florals
While florals for Spring may not be so groundbreaking, as Miranda Priestley, Meryl Streep's character in "The Devil Wears Prada," famously pointed out, fall florals feel fresh and a bit unexpected. Florals are the perfect way to soften up heavy, dreary fall and winter wears by adding that flirty, feminine feel that can't help but make you feel pretty
Fall florals don't strictly need to match to fall foliage and on the runways, we saw bright, bold shaded florals as well as rich jewel-toned ones. The key to making this pretty print work during the colder months is texture contrast. Mix and match your frilly florals with heavier and more structured items- a floral frock with a chunky cardigan, a floral skirt with a soft knit, a floral blouse with a tailored blazer. The point is, this look is a do so dig out those pretty florals that you stowed away for spring and rock 'em right now!


Plaid
Almost every season, plaid prints get hailed as the hot new trend which pretty much means they've transcended the 'trend' confines, becoming classic staples that everyone should own. And options are in no short supply- classic plaid shirts, sophisticated plaid skirts, warm wooly plaid coats, funky plaid pants, there is a plaid-printed option for every closet essential.
Plaid has been reinterpreted in so many different ways over the decades and is definitely one of the most versatile styles out there. Can you think of anything else that works just as well for cool hipsters as it does for rugged hunters and construction workers? Which can create a classic Ralph Lauren Americana style as well as a rebellious '90s-inspired grunge look? Plaid was once a fall/winter only staple but we've already learned that nothing is seasonal anymore and as such, the plaid invasion was even stronger on the Spring 2011 runways, solidifying its fate as a year-round can't-miss.

Kitten Heels
Little kitten heels are back in a big way and ladies everywhere should rejoice. Kitten heels are the perfect middle-ground between regular heels and flats and will give you a little lift, and sexy swagger, while keeping you comfortable throughout the day. The kitten heel trend was largely pioneered by Jackie O and the torch is being carried by current first ladies like Michelle Obama and Carla Bruni Sarzoky (credit also goes to mini-fashionista Suri Cruise). These ladies all prove that suffering for fashion is obsolete and practicality and style can co-exist.

The response to the resurgence of kitten heels has been overwhelming and these days you can't enter a shoe department without seeing a bevy of low-heeled styles. Women are so smitten by the kitten that there are low-heeled alternatives to just about every shoe and boot style, from classic pointy-toe pumps to over-the-knee boots and everything in between. Based on the evidence, this trend isn't going anywhere so if you're loving it, invest in a pair- your feet will thank you!
Sabrina Newman is the editor of the fashion and lifestyle blog, ANewMode.com