Exclusive Tinseltown Tidbits: Kanye West Releases Picture-Book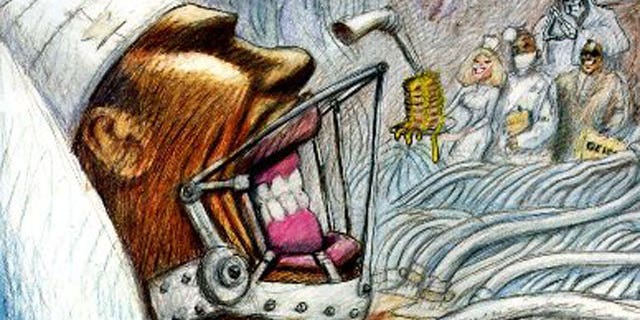 LOS ANGELES – Given all the controversy surrounding Kanye West and his 'time off' since the infamous VMAs outburst, you can imagine Pop Tarts surprise when a children's-style hardcover book by the hip-hop artist landed on our desk this week.
"Through the Wire" (complete with illustrations by Oscar-nominated animator Bill Plympton and dedicated to Kanye's late mom Donna West) is a memoir, published by ATRIA Books - a division of Simon and Schuster, that uses the lyrics of 12 of West's biggest hits (including "Jesus Walks," "Touch the Sky" and "Gold Digger") to chronologically bring to life his personal story of strength and triumph.
So will this new child-like depiction of West (complete with a few explicit words and intense pics) help West in a desperate attempt to build back up his fan base?
Forget Kate Beckinsale - it's all about her 10-year-old daughter Lily now. The British starlet's latest drama "Everybody's Fine" premiered in Hollywood this week and according Ms Beckinsale herself, a young one wanted it to be all about her.
"She is much less interested (in me) then seeing herself on the big screen because she is in the movie playing the young me so this is her premiere, it's not mine," Beckinsale told Tarts. "I was not in scenes with her because she was playing me young so I was always told to kinda hide while she did her stuff she didn't really want my opinion which I quite respected.
And here's some breaking news - Billy Bush has apparently seen a little too much of Carrie Prejean's flesh -- and no, we aren't talking about the racy pics that were released earlier this year.
"The first time I met her (at the Miss USA pageant in April) and I was in rehearsal the day before the event and I remember her coming off with a massive wardrobe malfunction. So I met more of her than I anticipated as she was coming off the set, I'll leave it at that," Bush told Tarts at the 2009 Cedars-Sinai Board of Governors Gala honoring Justin Timberlake on Wednesday night. "So I told the stage manager 'Hey you might want to tell California there's an issue there' and I went on with my business. She came up to me 5 minutes later and said, "Why didn't you tell me!? How long was I walking around like that!?'"
And back to JT, who knew he was such a comedian?
"When I was a kid in Memphis, Tennessee, I had many dreams, but I never dreamed that I'd be standing here accepting something called the " Heart of Hollywood" award. I was excited to find out that Hollywood actually does have a heart," he said while accepting the honors. "I've been told this "Heart of Hollywood" award honors "exemplary contributions to the entertainment industry" and that really moved me, especially after I looked up "exemplary" in the dictionary."