Exclusive: Linda Hogan Shopping Tell-All Book That Hulk 'Won't Like'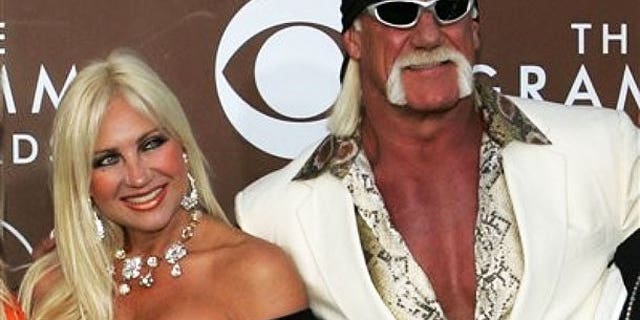 LOS ANGELES – Just one year after Hulk Hogan released his tell-all book, "My Life Outside the Rings," which labeled ex-wife Linda Bollea as an "abusive alcoholic," it seems as though Linda may very well be ready to get her revenge.
Pop Tarts has learned exclusively that Bollea is currently in the process of penning her own "uplifting" tell-all book that details "her life, the traumas and how much better life is now that she is no longer married."
"She will include all the trials she endured during the marriage, Nick's accident and the things she has accomplished," her attorney Ray Rafool told Pop Tarts. "Linda wants people to know her – she understands what it is like to get a divorce, to be a mother with grown children and establish a career and move forward."
And Hulk be warned – Linda's words probably won't be in your favor.
"I don't think he will like it," Rafool said. "Unless it is his version, everything else is not true. But Linda isn't writing it for him."
No publisher has been attached to the book yet, but Rafool tells Tarts it's currently being shopped around by her agent at The Literary Group in New York and they hope to have it on the shelves later this year.
And that's not the only project Ms. Bollea is pitching; apparently she's also deep in negotiations to star in yet another reality television show of her very own.
Meanwhile the 50-year-old has been rejoicing the fact that last week she reached a confidential settlement agreement in a negligence lawsuit brought against her by the family of John Graziano, who was critically injured in a DUI crash in 2007 when Bollea's son Nick was at the wheel.
"Linda is ecstatic that these lawsuits are over. The divorce is over, and this case is now over and Linda gets to move on with her life," Rafool said. "She is glad that all the negative matters of her life have concluded and that she's able to go on with positive, affirmative actions in the future."
Rafool also believes that the claims his client was a "negligent parent" were just a means for the family to "obtain jointly owned assets" from both Hulk and Linda.
"For the two weeks before the accident even occurred, Linda was in California with Brooke. She wasn't even in town at the time the accident occurred. And as far as what Linda did as a parent, by all accounts, she was a very good parent and a disciplinarian, who also cared very much about how Nick drove the vehicles," Rafool said. "If Nick did not drive the vehicles appropriately, Linda took action against Nick.
"Some of the things they've accused Nick of, which were multiple tickets and so on, were not even brought to Linda's attention at the time that they occurred."
An attorney for the Graziano family told E! that Linda was in a "different legal position" than her former husband, who signed for his son's driver license and thus was a still a target (along with Nick) for litigation.
But speaking of the children, Pop Tarts has learned that while 19-year-old Nick has been happily living in Los Angeles since his 2008 release from prison, 21-year-old Brooke is packing her bags and heading back to Florida.
"She didn't like LA as much as she likes the east coast," said a pal. "She just wasn't happy and feels more comfortable in Florida."
Hulk recently told Tarts that Brooke was busy working on her music and auditioning for acting roles, so perhaps the reality of Tinseltown wasn't as easy as the "reality" world she's grown accustomed to with "Hogan Knows Best" and her spin-off show "Brooke Knows Best."
Still, a third season of "Brooke Knows Best" will air on VH1, and will focus on her Hollywood ambitions.