EXCLUSIVE: A Shadow Lurks in Spring/Summer Issue of Miami Living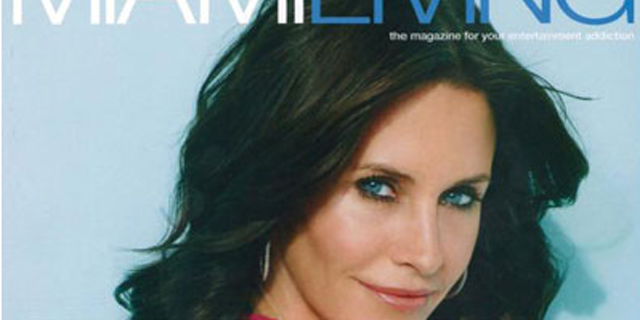 Miami Living magazine is a high-end quarterly publication promoting the finest in fashion, entertainment, and beauty in the Miami area. So it comes as no great surprise that "sugar daddy" dating website EstablishedMen.com, which calls itself as Miami's top dating service for "beautiful women and successful men," opted to advertise on its glossy pages.
But Pop Tarts noticed what seems to be a pretty suggestive shadow lurking in the current Spring/Summer issue featuring "Cougar Town" star Courteney Cox on the cover.
When readers flip to the first page and see the ad for EstablishedMen.com, they'll see two young beautiful women with what appears to be a shadow of a penis cast across the chest of one of the ladies.
The tagline for the ad? "See what you've been missing."
NSFW: Click Here for the "Offending" Ad.
The glossy is distributed across South Florida in newsstands, book stores, hotels, restaurants, and gyms, and in major U.S. cities via book stores in New York, Los Angeles, Chicago, Houston, Philadelphia, Phoenix, Columbus, Boston, and Washington, D.C.
"This was just now brought to our attention. Miami Living Magazine would like to apologize for not noticing the image," Miami Living editor in chief Vanessa Pascale told Pop Tarts in a statement. "We hope that our audience recognizes that we were just as surprised as they were to find this out. I myself have looked over the magazine dozens of times (prior to this being brought to my attention) and did not detect anything hidden in the ad, which leads me to believe that EstablishedMen.com must have tipped someone off as a publicity stunt. We trusted them as an advertiser. Miami Living Magazine intends to review future ads more carefully so that something like this does not happen again."
According to magazine/online publicist, Carly Harrill, that would be a good idea.
"As a publication that caters to an affluent audience, there are certain expectations and standards to adhere to on behalf of the consumer," Harrill said. "There is no question that this ad is offensive. In this case, the advertiser should have been asked make changes to their artwork in order to be placed. Aside from the damage this will do their image, I definitely foresee distribution locations pulling this from shelves."
Pop Tarts also contacted cover girl Courteney Cox's rep, but received no response.
The "offending" advertiser EstablishedMen.com is owned by Avid Life Media, the same group that owns controversial infidelity-dating website AshleyMadison.com, already known for arousing attention and pushing boundaries with its ad campaigns.
"When we created the ad, we never imagined a magazine like Miami Living would approve it, but judging by the amount of sign-ups we received since the magazine has come out, this 'shadow penis' ad seems to work and might become a staple of our campaign," a rep for the website told Tarts. "This ad is definitely a true reflection of what EstablishedMen.com is all about – connecting professional men with beautiful women for mutually beneficial relationships. And knowing that Courteney Cox was going to be on the cover was a big incentive for us."