ESPN ripped when anti-Trump broadcaster Keith Olbermann calls Mets-Yankees game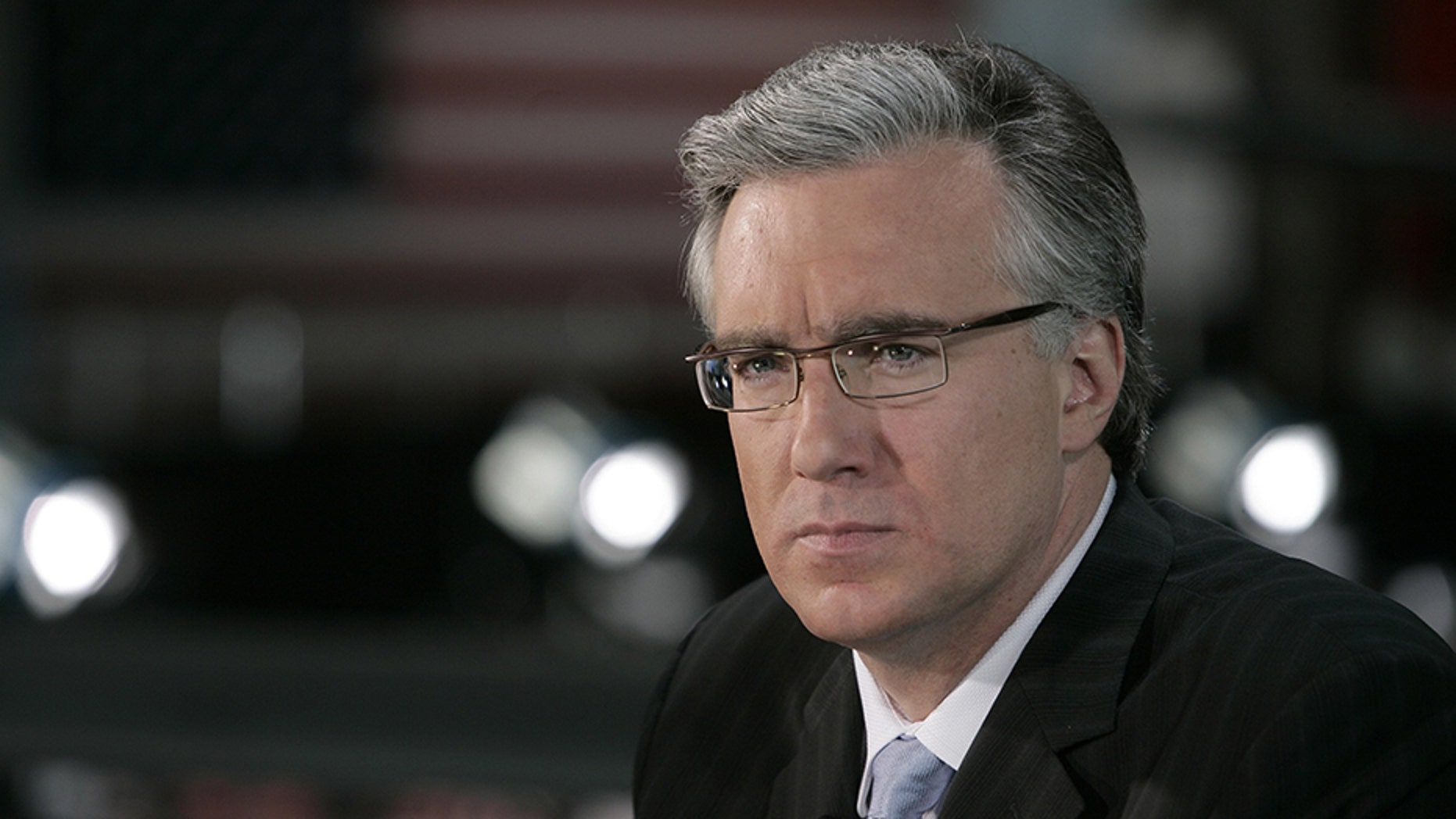 ESPN put Keith Olbermann in the broadcast booth for Monday night's nationally televised Subway Series game between the Yankees and Mets and the anti-Trump personality wasn't exactly appreciated by baseball fans on social media.
Olbermann doesn't typically call baseball games on television, but he replaced Karl Ravech for Monday's game – which was a makeup for a July 22 rainout between the New York City rivals. The game was not available on the Yankees and Mets local networks and aired exclusively on ESPN.
It's unclear if fans disapproved of Olbermann for his far-left political views or if they simply didn't care for his broadcasting style, but his name quickly began trending and the results weren't pretty.
New York Daily News columnist Bob Raissman wrote, "ESPN finds a way to punish Mets/Yankees fans by putting Olbermann in the TV booth tonight."
One user added, "I think it's safe to say this experiment of Keith Olbermann calling MLB games has become a disaster." New York Post media columnist Andrew Marchand sent a series of tweets bashing the decision to put Olbermann in the booth.
"Olbermann sounds like a guy who hasn't done a lot of play-by-play, which he hasn't. It is a bit distracting," Marchand wrote. "Putting Olbermann in the booth was a bad decision. This game doesn't need a gimmick."
Marchand added: "It also is not a good decision internally. How many more loyal to ESPN play-by-players than Olbermann would kill for the opportunity to do Yanks-Mets? Reward them."
"ESPN allowing Keith Olbermann to announce this baseball game is the worst thing to ever happen to the sport," Barstool Sports' Eric Hubbs wrote.
Sports blog Razzball tweeted, "That ESPN thinks Keith Olbermann is a good idea tells you everything you need to know about ESPN."
One fan cautioned ESPN about what was occurring on social media during the 8-5 Mets' victory: "Hey @ESPN, do a quick twitter search of 'Keith Olbermann' and maybe think twice next time you want him to call a game."
Not everyone hated Olbermann's performance. TVNewser editor A.J. Katz chimed in, admitting that he had an "unpopular opinion" and enjoyed the former MSNBC star calling the game.
ESPN announced in May that Olbermann will frequently guest anchor the flagship "SportsCenter," serve as an MLB play-by-play broadcaster, co-host various opinion programs such as "Pardon the Interruption" and guest host ESPN Audio programs. It marked Olbermann's sixth stint at ESPN and the time in-between has been largely spent as a far-left political pundit on MSNBC and an assortment of other networks.
Most recently, he anchored an anti-Trump online program for GQ, "The Resistance," and authored a book titled, "Trump is F*cking Crazy: (This is Not a Joke)."
Olbermann has been among the most outspoken critics of the president in the entire media industry, even moving out of his luxury New York City apartment building because it was owned by Trump. He once claimed that Trump and his family have done more damage to the U.S. than 9/11 mastermind Usama bin Laden.
In August 2017, Olbermann tweeted at first daughter Ivanka Trump and called her father a "neo-Nazi," and "racist." Olbermann frequently used profanity to criticize President Trump, often referring to him as a "racist f---," but ESPN's star doesn't bother to use the sanitized version of the cuss word.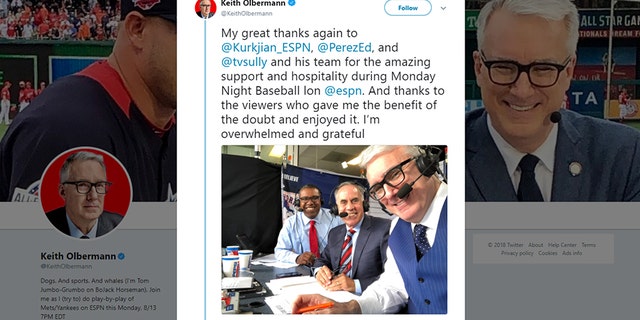 Olbermann has managed to avoid tweeting about Trump since ESPN announced he would return to the network. During Monday's game, Twitter was filled with an onslaught of other anti-Olbermann messages, ranging from humorous to angry.
ESPN declined comment when reached by Fox News.