Emily Ratajkowski's Red-Carpet Gown, Channing Tatum's Daddy-Daughter Time, and Much, Much More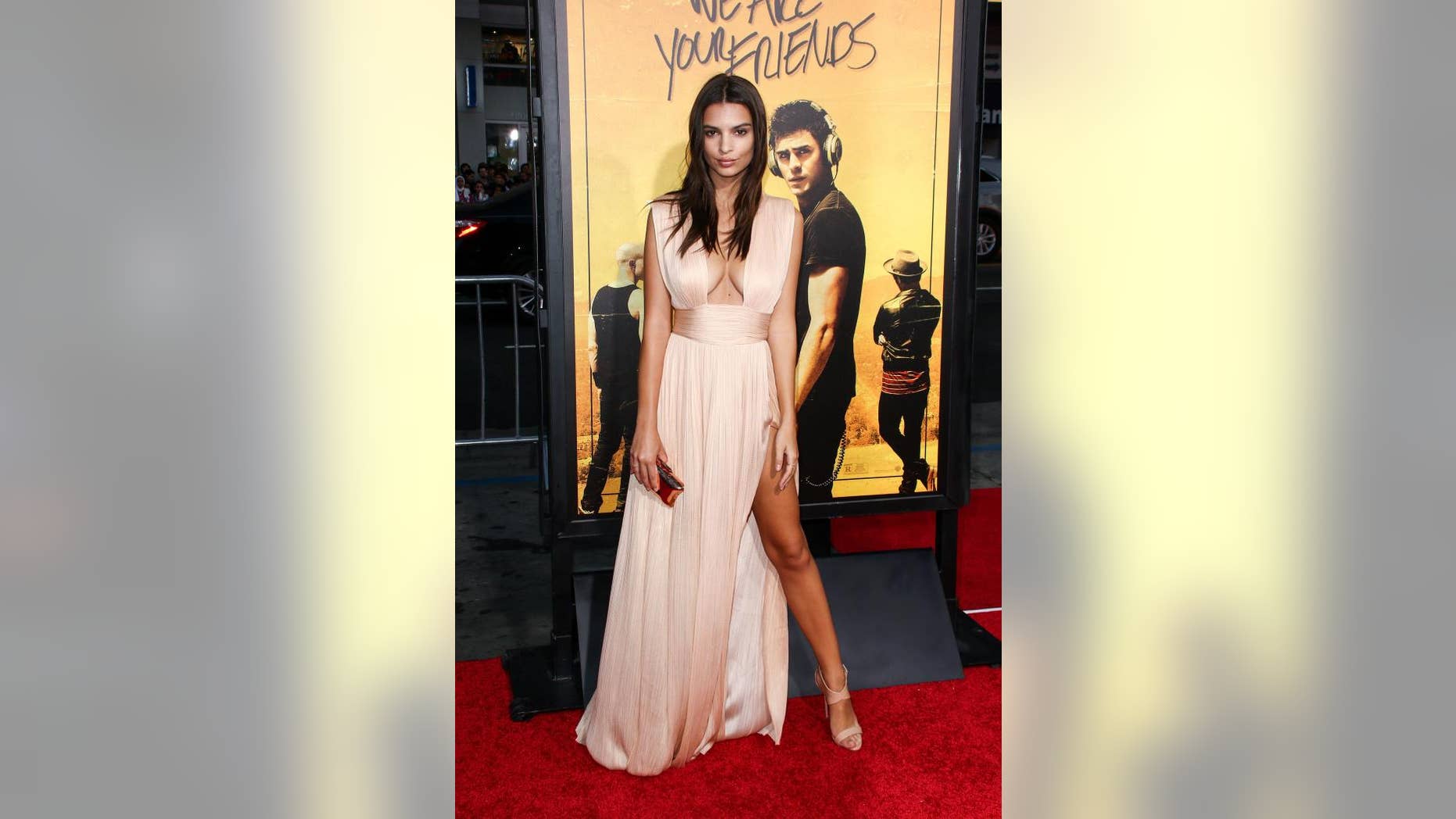 Here's what all the cool kids are talking about:
• Model and actress Emily Ratajkowski arrived for the Hollywood premiere of her new film "We Are Your Friends" in a daring Maria Lucia Hohan gown that showcased plenty of skin (below). Zac Efron, her co-star in the film, arrived wearing a suit by who the heck cares, because have you seen Emily up there?
• Of course, pulling off a dress like Emily's probably requires depriving yourself of greasy, fatty, and all-around delicious food. At least that's how Victoria's Secret supermodel Sara Sampaio told us she maintains her equally impressive figure in a recent interview. For example, watch the video below to learn which food Sampaio would be eating — all the time — if she could.
<p>• One Direction has debuted a music video for their new single <a href="http://www.justjared.com/2015/08/21/one-direction-release-new-video-for-drag-me-down-go-behind-the-scenes/" target="_blank">&quot;Drag Me Down&quot;</a> (below), which was reportedly filmed at the Johnson Space Center while the quartet underwent &quot;real astronaut training.&quot; Oddly enough, real astronaut training requires less vomiting than we imagined, and much more singing and dancing on the tarmac. </p> <p>• According to Us Weekly, Channing Tatum and his 2-year-old daughter Everly <a href="http://www.usmagazine.com/celebrity-news/news/channing-tatum-crashes-a-little-girls-birthday-party-2015208" target="_blank">unknowingly crashed another child's birthday party</a> at an L.A. playplace last week, but were invited to stay when they turned to leave. Channing then &quot;chatted up all the moms&quot; for two hours while his daughter played with the birthday girl, or as the girl's mother probably began calling her, &quot;GO AWAY!&quot;</p> <p></p> <p>• Earlier this week, Lady Gaga was <a href="http://www.huffingtonpost.com/entry/first-photos-lady-gaga-american-horror-story-hotel_55d5fe2be4b07addcb45d3fd" target="_blank">spotted filming scenes for &quot;American Horror Story&quot;</a> as a wealthy hotel owner named Elizabeth (below). Not much else is known about the character, but with a metal hand and lizard-shaped brooches, viewers can expect Liz to be one of those really <em>eccentric</em> hoteliers, like the kind who only stock Tab soda and Good &amp; Plenty in the minibars. </p> <p>• Forbes has determined Jennifer Lawrence to be <a href="http://www.ew.com/article/2015/08/20/jennifer-lawrence-highest-paid-actress-hollywood" target="_blank">the highest paid actress in the world,</a> earning an estimated $52 million between June 2014 and June 2015. So if you know Jennifer personally and could use a new Audi or something, now is probably a good time to ask.</p> <p></p> <p>• This past Thursday on Instagram, Britney Spears shared a photo of herself in a <a href="http://www.usmagazine.com/celebrity-style/news/britney-spears-mermaid-tail-with-sons-photo-2015208" target="_blank">mermaid tail swimsuit</a> alongside sons Sean and Jayden (below). It goes well with the unicorn hair she debuted at the last week, but only time will tell if it'll pair well with the dragon scales she's surgically grafting to herself next month. </p> <blockquote> <div style="padding:8px;"> <div style=" background:#F8F8F8; line-height:0; margin-top:40px; padding:50% 0; text-align:center; width:100%;"> <div style=" background:url(data:image/png;base64,iVBORw0KGgoAAAANSUhEUgAAACwAAAAsCAMAAAApWqozAAAAGFBMVEUiIiI9PT0eHh4gIB4hIBkcHBwcHBwcHBydr+JQAAAACHRSTlMABA4YHyQsM5jtaMwAAADfSURBVDjL7ZVBEgMhCAQBAf//42xcNbpAqakcM0ftUmFAAIBE81IqBJdS3lS6zs3bIpB9WED3YYXFPmHRfT8sgyrCP1x8uEUxLMzNWElFOYCV6mHWWwMzdPEKHlhLw7NWJqkHc4uIZphavDzA2JPzUDsBZziNae2S6owH8xPmX8G7zzgKEOPUoYHvGz1TBCxMkd3kwNVbU0gKHkx+iZILf77IofhrY1nYFnB/lQPb79drWOyJVa/DAvg9B/rLB4cC+Nqgdz/TvBbBnr6GBReqn/nRmDgaQEej7WhonozjF+Y2I/fZou/qAAAAAElFTkSuQmCC); display:block; height:44px; margin:0 auto -44px; position:relative; top:-22px; width:44px;"> </div> </div> <p style=" color:#c9c8cd; font-family:Arial,sans-serif; font-size:14px; line-height:17px; margin-bottom:0; margin-top:8px; overflow:hidden; padding:8px 0 7px; text-align:center; text-overflow:ellipsis; white-space:nowrap;"><a href="https://instagram.com/p/6nZQH3m8NK/" target="_blank">A photo posted by Britney Spears (@britneyspears)</a> on</p> Aug 20, 2015 at 11:38am PDT</div> </blockquote> <p>• Madame Tussauds in Las Vegas will be redesigning the area surrounding their wax likeness of Nicki Minaj — which depicts the rapper on all fours and nearly nude — after tourists began <a href="http://www.people.com/article/nicki-minaj-wax-figure-madame-tussauds-additional-security" target="_blank">taking inappropriate photos with it.</a> They're also putting more staff on duty, which means somebody's actual job description is now &quot;the guard who clears the area behind Ms. Minaj's butt.&quot;</p> <p>• And finally, following the success of &quot;Straight Outta Compton,&quot; Hollywood is reportedly planning a similar film focusing on <a href="http://www.tmz.com/2015/08/21/straight-outta-compton-sequel-snoop-dogg-west-coast-rap/" target="_blank">the rise of Snoop Dogg, Tupac and Nate Dogg</a> (among others). It's already got a title, too, which is said to be &quot;Dogg Pound 4 Life,&quot; although they should really change that.</p>