Elton John's husband joins in on anti-Madonna tirade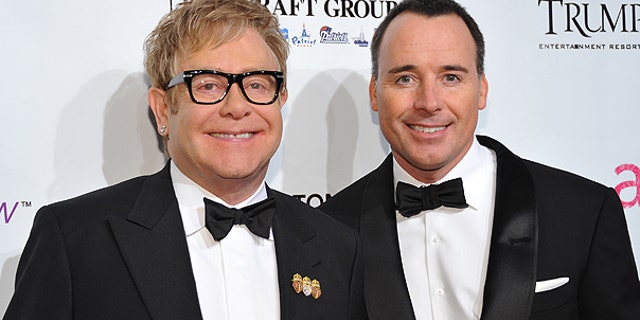 Elton John's husband, David Furnish, isn't the biggest Madonna fan, to put it mildly.
Mere seconds after the Material Mom received her Golden Globe award for Best Original Song for "Masterpiece," the song she wrote for her directorial debut "W.E.," Furnish whipped out his smartphone and went on a tear on Facebook.
"Madonna. Best song???? F--- off!!!"
Meanwhile, cameras caught John, who was nominated in the same category as Madonna for his song "Hello Hello" from the film "Gnomeo and Juliet," looking a bit miffed.
Earlier, the Rocket Man told a red carpet reporter that Madonna had "no f----ing chance" of winning the award.
Madonna didn't seem too put off by the insult. Later, she breezily told the same reporter, "Oh damn him," adding, "May the best man win."
After Madonna took the stage and gave a long-winded acceptance speech, Furnish continued his rant. "Madonna winning Best Original Song truly shows how these awards have nothing to do with merit," he wrote on Facebook. "Her acceptance speech was embarrassing in its narcissism. And her criticism of Gaga shows how desperate she really is."
Last week, Madonna gave an interview to Newsweek magazine where she described Lady Gaga's "Born This Way" as "interesting," dismissing the song as a rip off of her 1989 hit, "Express Yourself."
But Madonna doesn't seem to hold any ill will towards Furnish–or his famous hubby. "I hope (John) speaks to me for the next couple of years," Us Magazine reported Madonna as saying backstage at the Golden Globes. "He's been known to get mad at me so I don't know. He's brilliant and I adore him so he'll win another award. I don't feel bad!"