Eiza Gonzalez Won't Talk About Relationship With Liam Hemsworth, Storms Out Of Press Conference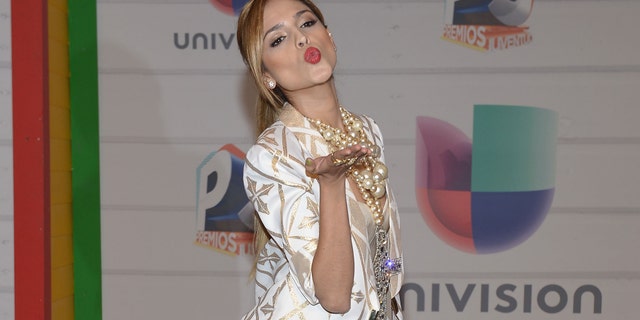 Liam Hemsworth's supposed new leading lady, Eiza Gonzalez, learned the hard truth of dating one of Hollywood's sexiest men. Go before reporters and they will ask about your relationship – a lot.
At a recent press conference in Mexico, the Mexican actress was hammered with questions about her relationship with the Australian hunk and how the supposed relationship has affected his relationship with Miley Cyrus. But rather than gracefully handling it, she just walked out.
The 23-year-old was in Mexico City to promote the DVD launch of her flick, "Los Croods," and while she was happy to talk about her crossover appeal in the U.S., she said nothing about her personal life.
"I'm happy and I'm focused on my work," she told the press. "It's incredible to be able to work with 20th Century Fox and to keep opening doors for Mexicans and Latins in the United States. When I was a girl, there wasn't anything in Spanish in the movies until you saw it on DVD. I'm happy and I'm waiting for a lot more work to come."
Gonzalez is set to co-star in the upcoming comedy film "All Hail the Squash Blossom Queen," opposite Bonnie Wright, who played Ginny Weasley in the "Harry Potter" films.
When reporters started pestering her about her role in Hemsworth's recent break up to former child star Miley Cyrus, she clamped up very quickly. While she initially responded with a terse, "I have nothing to say about the subject," reporters would not lay off – so she made a dramatic exit.
She later posted a photo of herself at the presser on Twitter.
Gonzalez became widely known in the U.S. recently when she was spotted with Cyrus' ex during a trip to Las Vegas. They were caught kissing passionately a few days later outside her Beverly Hills apartment.
Rumors of the fling came as Cyrus and Hemsworth broke off their engagement. The two, who were an item for three years, met on the set of "The Last Song" and became engaged in May of last year.
Follow us on twitter.com/foxnewslatino
Like us at facebook.com/foxnewslatino