Eddie Montgomery recuperating after collapsing onstage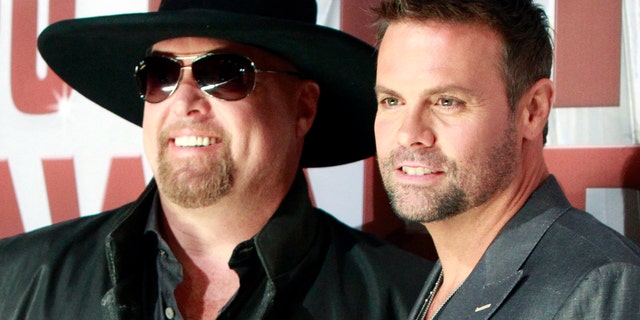 Eddie Montgomery is recuperating after collapsing on stage over the weekend. After rumors of a possible heart attack began to spread, the band took to Twitter to clarify that Montgomery suffered from dehydration and is doing well.
"There are false reports floating around that Eddie had a heart attack last night," the band writes on Twitter. "NOT TRUE. He was dehydrated and returned to the stage."
Montgomery Gentry were performing at the Cornstock Concert on the Hill in Garnett, Kan. when Montgomery collapsed. Those in attendance report that medics were quickly on the scene, and while Montgomery was recovering, Troy Gentry continued the show.
Later, Montgomery and his wife, Jennifer, took a photo together to let fans know that he was doing okay:
"Eddie and Jennifer send their regards from Key West and thanks for all of the prayers and well wishes," the band shares. "And he's drinking plenty of H20!"
Montgomery Gentry have had a busy year of festival dates. The country duo performed at WE Fest 2016 in Detroit Lakes, Minn., in August. Their set included a slew of their hits like "All Night Long," "Lonely and Gone" and "Something to Be Proud Of," which they dedicated to U.S. soldiers.
Two of next year's WE Fest headliners have been announced. The festival, which is set to take place Aug. 3-5, 2017, in Minnesota, will include Luke Bryan and Zac Brown Band. Next year's WE Fest marks the 35th annual of the three nights of country music's biggest camping and country music festival.