'DWTS' shocker: Star with highest score VOTED OFF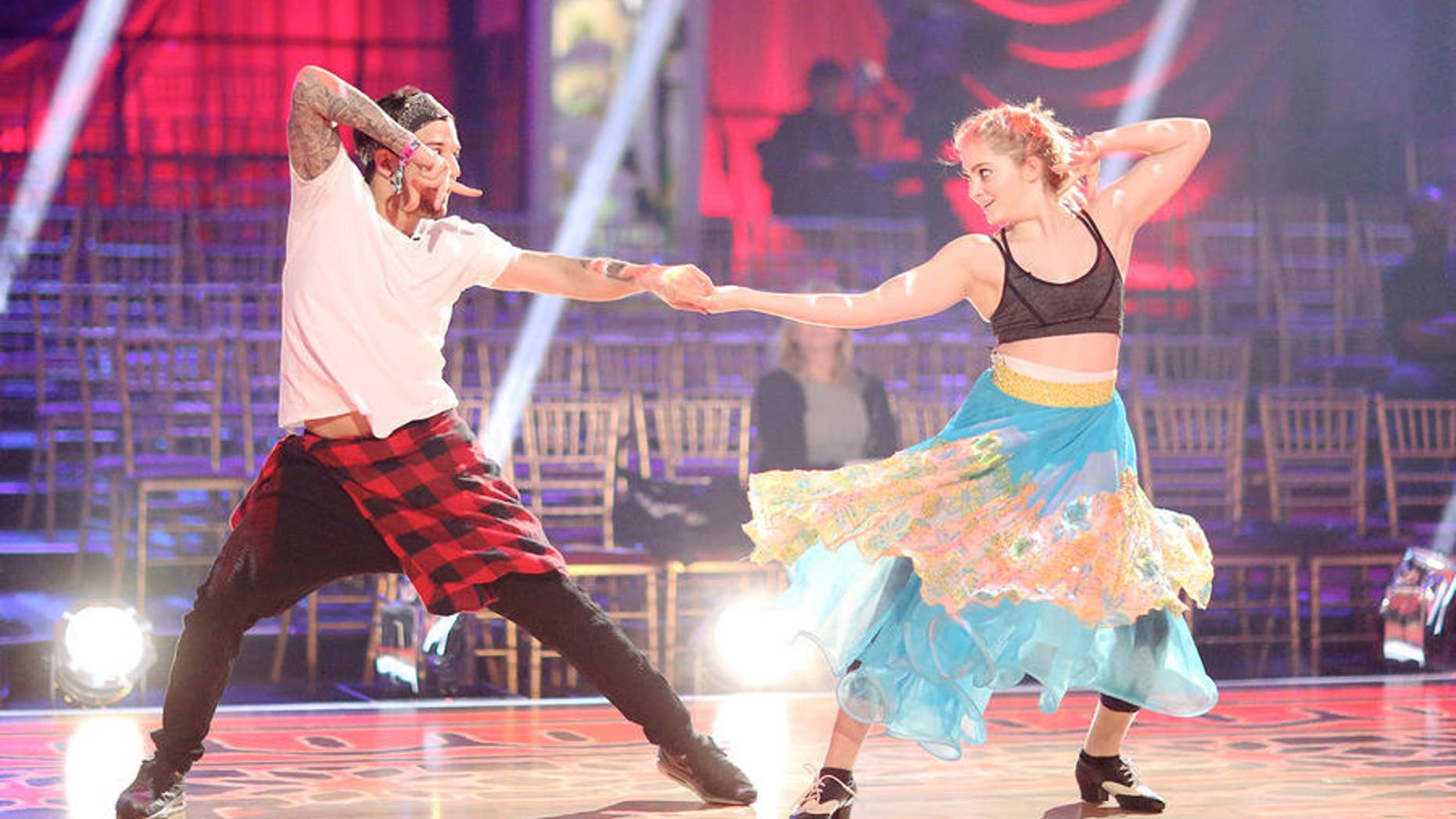 LOS ANGELES – Willow Shields, the youngest competitor ever on "Dancing with the Stars," was eliminated on Monday's "Eras Night."
The "Hunger Games" star, 14, lost the game after her co-stars performed dances inspired by the past—while she and pro partner Mark Ballas did a futuristic jazz ninja-inspired routine.
Despite getting the highest combined score of the night, 39 out of 40, Shields was the one sent home after she and co-star Rumer Willis had been the final two stars on the chopping block.
The teen actress sobbed uncontrollably on camera and after the show, was too emotional to do exit interviews on DWTS' post-show red carpet.
But Willis told FOX411 she had tried to soothe Shields' tears backstage: "I got her tissues. She just kept holding onto Mark and I probably would do the same thing, 'cause you're with [your dance partner] every day."
And "DWTS" castmate Riker Lynch said, "It's easily the most shocking elimination all season."
The show had originally intended to eliminate two stars on Monday night, but switched the double elimination to next week so only one celebrity left.
Everyone was stunned that Shields, who was a standout all season in innovative routines with Ballas-- including an "Alice In Wonderland" themed dance for "Disney Night"-- got the axe.
In addition to their jazz dance, they won the "dance off" portion of Monday's show against Lynch and his partner Allison Holker.
"They were so good tonight," musician Lynch said. "I was unbelievably shocked. Each week they were stepping it up. I still can't believe it actually happened."
Lynch told FOX411 after the show, "We were all able to give a big hug and tell her she was amazing. It was hard on her for sure. She's only 14 and doing this, we gotta applaud her for that and she's going to be a huge actress one day. We all know that."
Meanwhile Willis, who performs with Val Chmerkovskiy, recalled the drama of the final two, saying she thought,"'Oh, my God, it's Willow and me.' And I just kind of looked at him and was like, 'I'm not ready to go home. This can't happen right now.' When you're in that situation, you start to question and I just felt my whole body tense up and I would have been just as devastated as Willow."
"The Bachelor" star Chris Soules noted to reporters about Shields, who received many kudos from the 'DWTS' judging panel, "It goes to show the competition isn't just about the judges' scores. It's about what fans and people out there want to see and that's why we gotta focus on doing the best we can every week and getting better, not getting too caught up in the scores.
"I really didn't get to say goodbye because she was really upset. Very sad," Soules sighed.
His dance partner Witney Carson said, "It breaks my heart. Willow and Mark going home? That was absolutely absurd."