DWTS recap: A champion is crowned after cameraman stumbles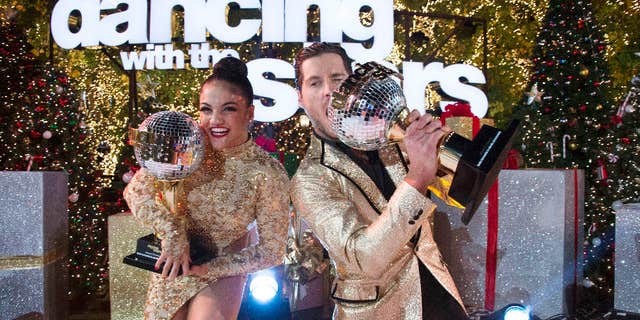 NEWYou can now listen to Fox News articles!
Just minutes before "Dancing with the Stars" awarded the coveted mirror ball trophy, a cameraman fell on the ice stage during the live finale.
In a popular and perhaps unsurprising result, adorable Olympic gymnast Laurie Hernandez, 16, won season 23 on Tuesday night with her partner Val Chmerkovskiy. Indy car racer James Hinchcliffe finished second and former football player Calvin Johnson, Jr., came in third.
However, before the joy of Hernandez's win, viewers were shocked to see the cameraman fall on the ice stage set up at The Grove mall in West Hollywood to announce the winner. Chmerkovskiy reportedly helped catch the cameraman and, as viewers saw, other stars looked concerned.
After the mishap on an unusually cold night in Los Angeles, host Tom Bergeron said to co-host Erin Andrews, "Careful, it's a slippery floor," then told viewers, "Our cameraman, who took a bit of a spill here, is sitting backstage behind a tree just catching his breath so everybody be careful on this now, the moisture in the air has made this event more hazardous a live show than we anticipated."
Then they commenced with what everyone wanted to know—who would be the winner?
In the end, although Andrews later told reporters that producers informed her of the results, "it was very, very close," gymnast Hernandez came out on top.
After Bergeron gave her and Chmerkovskiy the great news, he lifted her up in the air in celebration. They hugged as Hinchcliffe and his partner Sharna Burgess clapped for them.
Later, on the red carpet, Hernandez told reporters of the win, "I wasn't sure at all. We went against the three most amazing competitors and I'm glad to call them my family and I feel like this season has been so amazing and I've really grown throughout this, so I'm grateful."
Chmerkovskiy said of his second victory with a celebrity partner, "It's better than the first." The dance pro, who previously won with Rumer Willis, added, "Well, the first one was special. This one, I'm working with such a young, inspiring lady that I wanted to set an example through her. I wanted her to set an example for her generation that it's possible to stay hungry and stay humble. She's a testament to that."
Hernandez, who has written a memoir coming out in January, confirmed, "Through my life, I do want to inspire others. That's my goal every day. Because of Val, he's taught me it's a good thing to go out and feel that pressure and have that responsibility to go and inspire others. When I was a little kid, I looked up to other people so I hope that I can inspire little kids and they can look up to me."
Chmerkovskiy gave her a brotherly kiss on the forehead before their final dance on Tuesday night, a foxtrot/Argentine tango fusion that earned a perfect score of 40.
"I can't stop kissing her, just like I think millions of people watching her at home. I can't stop squeezing her," he smiled. "I've created a friendship with an incredible young lady that I'll be rooting for for a very long time."
Hernandez also announced on Tuesday that she will be joining the "DWTS" tour, which begins Dec. 16 in Reno, NV.
Before she did her last "DWTS" press interviews, Hernandez was spotted eating an ice cream cone. She told reporters she got cookies and cream flavor.
Incredibly, Hernandez said her "DWTS" win tied with her Olympic experience of winning gymnastics medals.
"The Olympics, as a little kid, it was such a big goal I created for myself and I was able to push through and make that happen. For the mirror ball, I've always loved to dance and my passion was dancing as well as gymnastics, so winning the mirror ball today was insane and amazing," she noted.
Hernandez plans to put the "DWTS" trophy next to her medals or "maybe like in the center of my house."
During the finale show, all of the season's cast members came back and Former Texas governor Rick Perry cracked up the crowd by playing a DJ as Vanilla Ice danced to "Ice Ice Baby." Later, Perry did some wild drumming on a drum kit and threw the sticks on the ballroom floor as Bergeron and Andrews laughed.
Perry told Andrews "no comment" about his Monday meeting for a potential cabinet position with President Elect Donald Trump.
So who will be the celebrities competing on season 24 of "DWTS"? The next cast is expected to be announced in March.