Dwayne Johnson's 'Rampage' narrowly beats John Krasinski's 'A Quiet Place' at the box office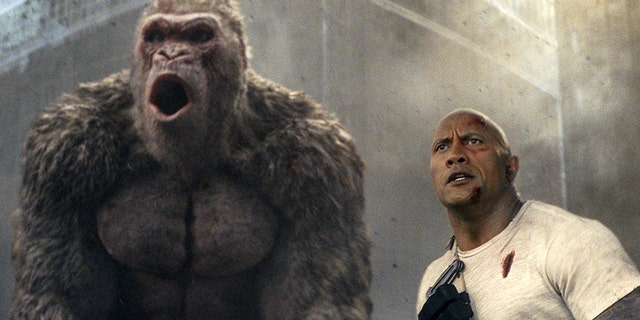 After a wobbly start, Dwayne Johnson muscled his way to a No. 1 opening for "Rampage" — but just barely. Close on its heels was the word-of-mouth sensation "A Quiet Place" in its second week in theaters, and not too far behind that was the Blumhouse horror "Truth or Dare" in a competitive weekend at the box office.
Warner Bros. said Sunday that "Rampage" earned an estimated $34.5 million in its first weekend in North American theaters, and dominated internationally too with $114.1 million from 61 territories.
Based on the classic arcade game, "Rampage" carried a sizable budget of at least $115 million. Although "Rampage" pulled in mixed reviews (it's at 50 percent on Rotten Tomatoes), audiences were more enthusiastic, giving it an A- CinemaScore.
"I wasn't sure how I was going to feel on Friday. But when I look at our global number of $148.6 million, there's a lot to be proud of for Dwayne Johnson," said Warner Bros. president of domestic distribution Jeff Goldstein. "Talk about a real closer, he knows how to bring it home."
That Friday, of course, was Friday the 13th and audiences had the choice between two wide-release nail-biters to spend their entertainment dollars on — the buzzy thriller "A Quiet Place" that dominated the charts last weekend, and the new horror from the shop behind "Get Out" and "Split," ''Truth or Dare."
After its stunning debut, John Krasinski's modestly-budgeted "A Quiet Place" fell only 35 percent in weekend two, adding $32.6 million to its domestic total, which is now just shy of $100 million for Paramount Pictures.
"Truth or Dare" also found a sizable audience that was mostly young (60 percent under the age of 25) and female (60 percent). The PG-13 rated pic stars "Pretty Little Liars" alum Lucy Hale.
With a budget of just $3.5 million, the film took in a terrific $19.1 million over the weekend — just the latest in a string of successes for the Blumhouse and Universal Pictures partnership.
"They take high quality filmmaking at micro-budgets and just consistently over-deliver," said Jim Orr, Universal's president of domestic distribution. "Everyone at Universal is just thrilled to be in business with these guys."
Orr said despite the competitive marketplace, the studio's marketing found a lane with the younger female audience and played into the Friday the 13th release.
Sliding into fourth place was Steven Spielberg's "Ready Player One," with $11.2 million in its third weekend, and in fifth was the R-rated comedy "Blockers," with $10.3 million.
Also, after a limited release, Wes Anderson's stop-motion animated "Isle of Dogs" added 1,385 locations and took the No. 7 spot with $5 million. Chloe Zhao's well-reviewed indie "The Rider" also debuted this weekend in three theaters with $45,268.
While the success of a horror, especially a micro-budget one, isn't a surprise for the industry, big budget films like "Rampage" continue to face a complex marketplace. For box office analysts like comScore's Paul Dergarabedian, "Rampage's" performance fits into the post-"Black Panther" narrative for most would-be blockbusters that have followed the Marvel and Disney phenomenon.
"'Rampage' joins a long list of popcorn movies that have opened in the wake of 'Black Panther' to rely heavily on their international box office revenues," Dergarabedian said, citing "A Wrinkle in Time," ''Tomb Raider," ''Pacific Rim: Uprising" and "Ready Player One" as recent examples.
Disney and Marvel's "Black Panther" added $5.3 million in its ninth weekend in theaters, bringing its domestic total to $673.8 million.
It's another down weekend for the industry, too. The same weekend last year saw the massive $98.8 million opening for "The Fate of the Furious." ComScore reports that the year to date box office is down just over 2 percent. But the tide could be turning soon.
"We're just in this lull waiting for 'Avengers: Infinity War' that is going to blow the doors off of the box office in a little less than two weeks," Dergarabedian said.
Estimated ticket sales for Friday through Sunday at U.S. and Canadian theaters, according to comScore. Final domestic figures will be released Monday.
1."Rampage," $34.5 million.
2."A Quiet Place," $32.6 million.
3."Truth or Dare," $19.1 million.
4."Ready Player One," $11.2 million.
5."Blockers," $10.3 million.
6."Black Panther," $5.3 million.
7."Isle of Dogs," $5 million.
8."I Can Only Imagine," $3.8 million.
9."Tyler Perry's Acrimony," $3.7 million.
10."Chappaquiddick," $3 million.