Documentary '41' gets intensely private President George H. W. Bush to let his guard down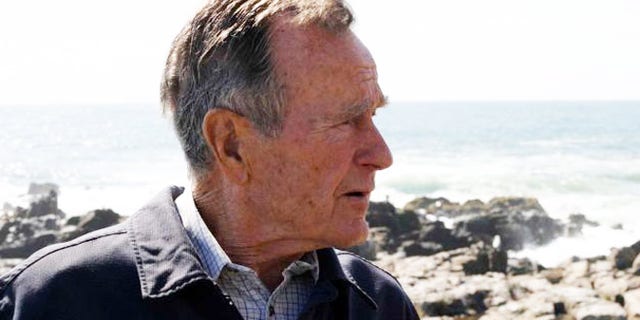 He is the 41st President of the United States, but there is much more to George H.W Bush than his politics. Filmmaker Jeffrey Roth was determined to shed light on the personal side of the intensely private president in the new HBO documentary, "41."
"My hope for this film is that people can see a president as a normal person, regardless of whether you are a Democrat or Republican. But it seems 'president' has become a dirty word, and you aren't allowed to like the other guy," said Roth, who's documentary airs two days after President Bush's 88th Birthday. "With this film, we really wanted people to see what makes George H.W Bush tick, his emotional side, his comedic side, his love of his family, his dogs."
"41" takes audiences deep inside the former president's peaceful digs in Kennebunkport, Maine, with him reflecting on his happy childhood, words of wisdom from his parents, and the pain of losing his three-year-old daughter Robin to leukemia in 1953.
The documentary also features remarkable footage of Bush's rescue after his plane was shot down amid the Second World War.
"What you see with him is what you get. He is not acting, he is not trying to sell you anything," Roth told FOX411.com's Pop Tarts column. "I think audiences are really quite surprised about how humble and private he is. he is not worried about shaping his legacy. He'll that historians do that, and he is totally at peace in accepting that."
[pullquote]
Roth said Bush never tried to assert any type of creative control regarding his portrayal in "41," no questions needed to be submitted in advance, and no restrictions whatsoever were placed on the filmmakers.
But there was one topic Bush didn't feel much like touching.
"Can't talk about him," Bush said when asked about the third-party candidacy of Ross Perot, which helped Bill Clinton win the White House. "I think he cost me the election, and I don't like him."
It was Bush's seemingly unlikely friendship with famed Hollywood producer Jerry Weintraub that helped "41" reach the masses. When Roth started out on the project he had no network backing, but after the "Ocean's Eleven" director watched some rough cuts at Bush's request, he came on-board and sealed the deal with HBO.
The story of How Bush and Weintraub, former Kennebunkport neighbors, became good friends is particularly remarkable.
"It was about 46 years ago, and Jerry tried to join the tennis club ,and they wouldn't accept him because he was Jewish. Only George Bush, Sr. wouldn't hear of it, and made sure he got an application and was accepted. That shows you the type of person he was," Roth said.
And now that "41" is done and dusted, Roth is able to breathe a big sigh of relief having got the thumbs up (kind of) from Bush's biggest confidante.
"While we were filming it seemed we got the evil eye from former First Lady Barbara, she didn't really know what we were doing," Roth added. "But now she has seen it and understands, I think she liked it."
"41" premieres on HBO June 14 at 9 p.m. ET.