Demi Lovato To Pen Inspirational Quote Book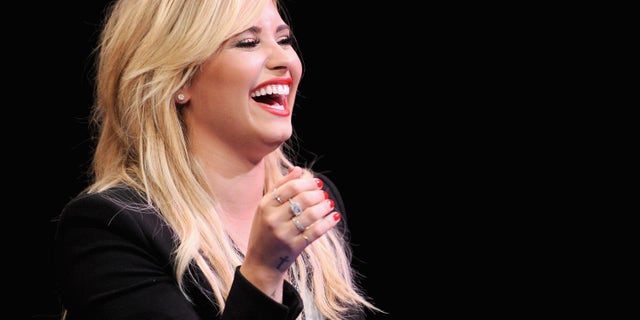 Demi Lovato made headlines when she spent three months in rehab in 2010 to battle bulimia, compulsive cutting and bipolar disorder. Since then the 21-year-old has taken major steps in her recovery and wants to share her inspiration with others.
In a candid video posted Monday afternoon on Keek.com, Lovato announced she will be releasing a new book "Staying Strong" that will compile 365 of her favorite inspirational quotes and her insights into them.
"One of the things that helped me with my recovery is taking every day one day at a time," the "X-Factor" judge says in the video. "And I am a firm believer in starting the day right with an inspirational quote, sort of a morning meditation."
On Twitter Lovato teased the book cover and some of the pages, including one with a quote by Miguel Angel Ruiz.
This is not the first book for Lovato, who released an e-book earlier this summer titled "Demi." That book, which served as a companion piece to her album of the same name, featured pictures and videos that chronicle the "Heart Attack" singer's career thus far.
"It's something I am excited about," Lovato said about her new book. "I hope you all like it and it inspires you to stay strong."
The book, to be released by Macmillan Publishers, is available for pre-order now. It will be released on Nov. 19. A version in Spanish will also be available soon, Lovato tweeted Monday.
The singer actress also recently shared her scoop on her upcoming appearance in Fox's hit musical show "Glee," where she will be playing Naya Rivera's love interest.
"I get to play a lesbian on the show and that's something that I feel like hasn't really been brought to prime time with, you know, as a young actress," Lovato told Access Hollywood at the premiere party for season three of "The X Factor" Thursday night.
"And I think it represents where our society is today. It's becoming the norm and I'm really glad that I get to represent that — how far we've come. You know, 15 years ago you wouldn't have seen that on TV, but now people are becoming more comfortable with it and I'm glad that I get to represent that, and also, just hopefully inspire people with my character to love who they are and accept who they are and not give a crap what other people think."
Follow us on twitter.com/foxnewslatino
Like us at facebook.com/foxnewslatino