Demi Lovato And Naya Rivera To Play Lovers on 'Glee'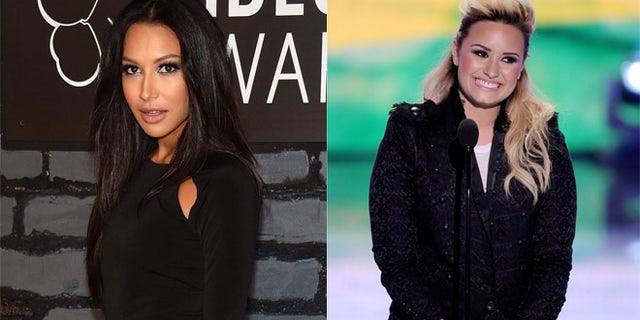 Demi Lovato is reportedly set to play Naya Rivera's love interest in "Glee" as part of a recurring role in the popular Fox TV show.
Rivera, 26, spilled the news on the red carpet at the MTV Video Music Awards Sunday night.
"She is playing my love interest," she said. "I am very excited about that. … We are bringing her to the dark side."
Rivera plays out lesbian Santana who moved to New York during the show's fourth season. Filming for the fifth season began several weeks ago.
First reported on TV Line, the 21-year-old "X Factor" judge is expected to play Dani, a New York-based struggling artist friend of Santana and Rachel, played by Lea Michele. Lovato's character is also expected to have a few musical numbers with Adam Lambert's incoming character during a reportedly six-episode arc.
Rivera said Lovato joins the show during one of the two Beatles episodes, which are currently being filmed.
"We are shooting three episodes at the same time," Rivera told MTV. "It's awesome. We get to sing all of the best Beatles songs."
Among those three episodes is one commemorating co-star Cory Monteith, who died of a heroin overdose July 13 in Toronto. The special tribute episode was filmed last week.
Rivera said the mood on set without Monteith is "horrible".
"It's the worst thing that's ever happened to me," she admitted. "It is the hardest thing to do. It's been the worst week ever."
Rivera said: "(Cory) was an amazing guy and I definitely miss him."
The singer-actress also recently deputed her first single, "Sorry," featuring her boyfriend rapper Big Sean. She said Sunday the reaction from fans has been great. She teased the cover art last week where she is seen posing in sexy lingerie.
"I am really excited people are getting to see Naya outside of Santana of 'Glee'," Rivera told MTV, adding that it will be available on iTunes in the upcoming weeks.
The fifth season of Glee premieres Sept. 26 on Fox.
Follow us on twitter.com/foxnewslatino
Like us at facebook.com/foxnewslatino